Teen's Prom Dress Sparks Cultural Appropriation Debate
by Thea Glassman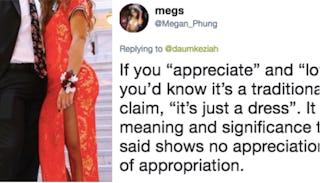 Image via Twitter/Keziah Daum
Teen wore a traditional Chinese dress to prom, and sparked internet debate
A non-Chinese teen wore a traditional Chinese dress to prom, and the internet is divided over whether or not she made the right decision. Some felt she was appropriating the culture. Some thought it was just a dress and there was no problem at all. More than 13,000 people weighed in altogether — making for an intense, knockdown debate.
Utah senior Keziah Daum was prom dress shopping when she stumbled upon a qipao, a bodyhugging, high-collared traditional Chinese dress. She told The Washington Post that she liked the high neckline (a rare find in the prom dress market) and thought the ensemble was "absolutely beautiful."
"[The dress] really gave me a sense of appreciation and admiration for other cultures and their beauty," Daum added.
The high school student took to Twitter to share pictures of herself wearing her new dress — and the backlash was swift.
Some found Daum's outfit choice offensive and accused her of cultural appropriation. They also questioned her prayer pose — though the teen told The Washington Post that she was just mimicking a YouTube personality.
https://twitter.com/jetpack/status/990275766997811200
https://twitter.com/jetpack/status/990462885741477888
Others had no problem with her dress, and complimented the teen for embracing another culture.
https://twitter.com/jetpack/status/990891909131350017https://twitter.com/jetpack/status/991187935381762048
https://twitter.com/jetpack/status/990581798924111875
Meanwhile, Daum has been watching all the intense debate unfold from behind her computer and feels misunderstood by the critics. She told INSIDER that she is going to "stand [her] ground."
"I feel people have seen the photos and others opinions and has viewed them in the wrong way. Making assumptions is something that has definitely caused a lot of this controversy and backlash," Daum said. "I would like my critics to know that I have no ill intent against other cultures and that I was simply showing my appreciation."
The teen took to Twitter to argue her side of the case, and insisted that she really didn't get what all the fuss was about.
"To everyone causing so much negativity: I mean no disrespect to the Chinese culture," she tweeted. "I'm simply showing my appreciation to their culture. I'm not deleting my post because I've done nothing but show my love for the culture. It's a fucking dress. And it's beautiful."
This article was originally published on