12 Fun Games To Play With The Fam On Thanksgiving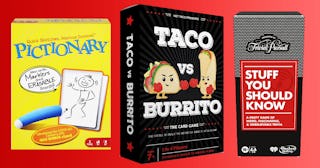 There's nothing like getting out a board game and sitting with the family after a satisfying Thanksgiving day meal. After all, what else can you do to pass the time until you are ready for your second (or third) round of turkey with all your favorite sides? Even if you have some party poopers in the family who claim they aren't into games, Scary Mommy has compiled a list of the best games out there.
From classics games, to new ones that are created by kids and becoming some of the most popular games ever, you are sure to find something everyone can get into this Thanksgiving.
We only include products that have been independently selected by Scary Mommy's editorial team. However, we may receive a portion of sales if you purchase a product through a link in this article.
Bold Made is a game that's fun for the entire family. Co-created by a nine-year-old, this upgraded Old Maid card game features forty important women who made history.
Another game created by a child, Taco Versus Burrito is a family-friendly game that's strategic and has become incredibly popular. It has over 6000 five-star reviews.
Double Ditto is a great family board game that's perfect for kids over eight, as well as teens and adults. It object of the game is to try and guess what other players will write down making it a challenge. If you match with another player, you score a "ditto."
Spoof is great for kids ten and up (yet younger kids can play by teaming up with someone older) and adults. It's become a popular party game and will keep everyone laughing. The object of the game is to test your bluffing skills which always makes for an entertaining time.
This is a great board game for kids, but the whole family can enjoy it too. It sparks your child's creativity as well as laughter. It's also a great way to for your kids to practice their critical thinking skills.
This award-winning family game was created by a couple who visited all National Parks, and created it with their son. It's not only fun, it's also educational.
Catan is an adventure board game that is perfect for ages ten and up. To object of the game is to trade, build and settle the Island of CATAN. It involves strategy and players are able to control their own civilization.
Azul is a family board game where you place tiles. Players become artisans tasked with creating the most beautiful tiled mosaics while getting extra points for getting mosaics in the same color to create stunning patterns.
Candy Land is an oldie but goodie. It's a great one to bust out and even the little kids can play.
Trivial Pursuit is always a great one to pull out of the game cupboard. This 'Stuff You Should Know' edition is for an older crowd– sixteen and up– so, it's great if you have teenagers.
Hedbanz is a great way to interact with the whole family. It's a picture guessing game where you are able to ask questions to get clues so you can guess which card you are wearing on your head.
This special edition of Pictionary comes with pens, and an exclusive Catch-All Category with 400 bonus clues. It's drawing fun for the whole family.
This article was originally published on