This Year, There Will Be An Empty Chair And An Extra Chair At Thanksgiving
by Elaine Roth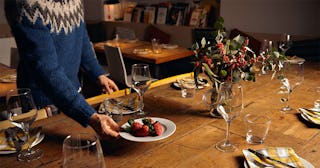 BublikHaus/Shutterstock
My husband loved Thanksgiving. He loved hosting family. He loved having a house full of friends. More than all of that, he loved…not having to drive home when it was all done. (Kidding, kind of). The first Thanksgiving we hosted in the home we called our forever home, he reveled in the joy of standing at the head of the table and carving the turkey. He was living his dream—a house, a family, a dining room table with no empty chairs.
My husband, Matt, was diagnosed with brain cancer before he had another chance to host Thanksgiving. He died, without getting a chance to carve another turkey.
The first Thanksgiving without him is a blur. My sister hosted. From that night, I remember only the depth of his absence, how quiet the table felt without him. I remember the chair that should have been his–sitting empty.
Every year since, that empty chair is a fixture at the table. (I mean that figuratively, not literally, by the way.)
Fast forward to this Thanksgiving—I'm dating someone, and it's serious. A thousand emotions arise from that statement. Dating as a widow is complicated. (Grief and guilt aren't uncommon–luckily joy and hope are more common.) Dating as a widow becomes even more complicated as our lives weave together, and as family-focused holidays roll up on the calendar.
This year, my sister-in-law, my husband's sister, is hosting Thanksgiving—and this year, she invited my boyfriend of a year and a half. Assuming he's not working, it'll be his first holiday with my late husband's family.
That means this year, at Thanksgiving, we'll have an empty chair and an extra chair.
I have no idea how that will look, for me, for my kids, for my boyfriend, or for my husband's family, which has embraced me as one of their own.
I assume there will be hard parts for all involved. Holding space for my husband while making space for my boyfriend requires a kind of strength that's often undervalued. My in-laws have shown it more times than I can count—starting with every time they share a story about my husband, and then listen to their grandchildren, their son's children, tell a funny story about my boyfriend, a man who is in their lives because their son couldn't be. No matter how much they like the new man in their grandchildren's lives, he will always be a walking, talking reminder of their deep loss. Nevertheless, they've embraced the idea that someone new will be there. They've invited him to pull up a chair at the Thanksgiving table.
My kids are the true experts at making space and holding space. Their ability to honor the past and look forward to the future sets a high bar for all of us. More than anyone in my life, they will blend Daddy stories and mom's boyfriend stories in a single breath. They'll talk bluntly about what was and then ask without missing a beat about what will be. They've come to love the new man in my life and have wondered aloud whether daddy would like him, too.
I tell them I think he would, and I believe it. After all, this new man has to put in the hard work to make space for the empty chair, too. It's no doubt a herculean effort to pull up an extra chair at a regular table, but even more so at a table linked by loss, anchored together around an empty chair. A table with an empty chair and an extra chair only works if the person in the extra chair is comfortable with the empty chair, if they make space for memories and moments that exist in a world where an extra chair was never imagined. I'm grateful my boyfriend can do that.
For me, making space for my boyfriend and holding space for my husband is a constant work in progress. That's true in most situations when guilt and grief commingle with hope and joy. Bringing Matt–his stories, his memories–into my new relationship, and also respecting my boyfriend's boundaries and need to make our relationship wholly our own takes work and grace. It can sometimes feels like being sandwiched between the past and the future. It could be suffocating, like being in the middle seat of a two small airplane row. If I was alone in the effort of making space for the extra chair while holding space for the empty chair, I'd be smothered.
Luckily, I'm not alone. I have in-laws who are choosing to embrace my happiness, kids, who are learning to live—bright and full lives—despite loss, a boyfriend with the confidence to pull up a chair, and a heart, that knows if I take a step back, I can see the space between the empty chair and extra chair on Thanksgiving for what it is—a reminder to live in the present. Which is all any of us can do when we find ourselves between an empty chair and an extra chair, or anytime thereafter.
This article was originally published on