25 Things My Children Never Say
by Scary Mommy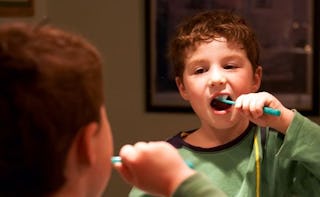 1. Mommy is on the phone right now, so let's entertain ourselves quietly.
2. I know where my soccer cleats are!
3. I'm going to play with my toys now. I really do have so many of them.
4. You're making what for dinner? YUM!
5. That puddle would make an awfully big mess. I'm not going to stomp in it.
6. We're going to be in the car for five hours? Let me pee first.
7. I'm too full for dessert.
8. I have a lot of homework tonight, I really should get started.
9. You look really busy; I'll go ask Dad instead.
10. We all decided that we want to watch the same thing on TV.
11. Thank you for that yummy lunch! I didn't trade any of it at the cafeteria.
12. You're so much more fun than Dad.
13. Let's get those thank you notes over with!
14. I've had enough electronics for the day.
15. I have a class project due two weeks from now.
16. I'm ready for bed.
17. I don't care what my friends are allowed to have or do.
18. What did you ask me to do before? I want to made sure I go and do it.
19. I'm really enjoying this long car ride.
20. I need to wash my hands.
21. I'll take the smallest piece, please.
22. You're in the bathroom? OK, I'll wait patiently to ask my unimportant question.
23. You're wearing that? You look great!
24. There's so much to do in this house; What lucky kids we are.
25. We're going to be late, let's go!
This article was originally published on