This 21-Page Prom Dress Code Manual Is Everything That's Wrong With Dress Codes
by Maria Guido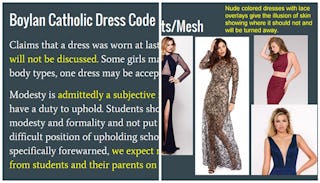 Image via Boylan Catholic High School/ Scribd
This prom dress code is 21 pages long
A Catholic high school in Illinois was so concerned about the modesty of their female students, they made a 21-page manual directing the girls at the school how to dress. It's so perfect that this dress code exists. Because it proves in great detail why dress codes are so unbelievably sexist and ridiculous.
Boylan Catholic High School just released a manual for their students to follow while preparing to shop for prom. "Boylan Catholic High School dances are an event, which reflects the
philosophy of our school and the teachings of the Catholic Church," the longest dress code document in the history of ever, begins. "Among our most important considerations is adherence to Church teachings regarding modesty." For girls, of course. Of the 21 page manual, boys are mentioned once.
"Young men are expected to wear formal evening attire that would include a tuxedo, suit with a tie, or sport coat and slacks with a tie." Okay. Got it. What if they decided against sleeves? Can they were those 90's style cropped tuxedo jackets with a tail? What if they wear flip flops? Will that work? Oh, you don't care? Let's move on. It's time to get to the girls.
Nothing low cut, ladies! God doesn't like cleavage. There's more:
NO NAVEL. And we're bringing a ruler, so don't even try to show more than two inches of your midsection. Dresses should not be excessively tight, so good luck if you're girl with actual curves. And no cover-ups are allowed over dresses that do not meet dress code. You can't hide your immodesty with a sweater, ladies!
There's more:
"Some girls may wear the same dress, but due to body types, one dress may be acceptable while the other is not." Translation: if you weigh a little more, there are a lot of dresses you can't wear. Because, curves. Sorry. They don't make the rules. God does. Oh, wait. They totally make the rules. Never mind.
Just in case you're not sure what any of this means, two women with way too much time on their hands put together a presentation of sorts.
So we're clear about what's "acceptable" and "non-acceptable" — you can show your lower back, just not your lower, lower back.
There's more:
And more:
And more:
"Nude colored dresses with lace overlays give the illusion of skin showing where it should not and will be turned away." Eyes. Rolling. Back. Into. Head.
And more:
We're really doing a great job inspiring confidence in our young women, America. As if being a teenage girl isn't hard enough — now they have to shop with a manual in their hands to make sure that dress that shows their back (the horror!) doesn't show too much of their back. And let's try to explain why one dress is okay for their best friend who weighs fifteen pounds less — but not for them.
We start so young, indoctrinating women into the idea that every part of their body is shameful and wrong. It's really not okay. None of this is okay. Catholic school or not, this dress code is bullshit. And the women who spent hours putting it together should be ashamed of themselves. So should the school, since even with all the bad press they've gotten, it still lives on their website.
All images via Boylan Catholic High School/ Scribd
This article was originally published on