Be Honest: What Kind Of Sports Mom Are You?
Oh, the moms you'll meet on the sidelines.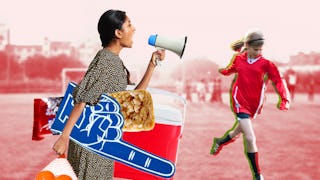 Growing up, sports were a big part of my life. Between my two younger brothers and I, our family weekends were spent in gyms and on fields, in bleachers and on blankets, with teammates and their families, making memories. I formed unlikely friendships, created needless rivals, and had idiosyncratic coaches. The stakes always felt high, and looking back it all feels a little dramatic and silly.
But now that my oldest son has reached third grade, his sports commitments are ramping up, and I've realized that the wildest, most extreme people in youth sports are not found on the field but on the sidelines. Moms crowd the bleachers of my sons' basketball games and pepper the sidelines during football and lacrosse, becoming caricatures of themselves who magically transform when their child laces up. Each supporting and surviving in their own way — a symbiotic phenomenon like no other.
We see them, we know them, we are them: the sports moms.
While this lineup may seem overwhelming, the bleachers simply are not complete without each of these valuable players. Each mom feeds off and complements the others, creating the perfect and wildly unbelievable youth sports sideline scene. If you are currently in it, you get it. And if you aren't quite there yet, buckle up and choose wisely. Your team depends on you.
Samm Burnham Davidson is an ex-lawyer mom of four who swears a lot. She lives in Beverly, Massachusetts and can be found on Instagram @sammbdavidson.