Why I Use Rainbows To Remember My Son Who Died
by Jennifer Canvasser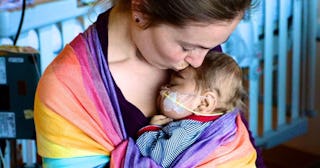 Courtesy of Jennifer Canvasser
Trigger warning: child loss
My son Micah died on December 11th from complications of necrotizing enterocolitis, a devastating intestinal disease. That day took my breath away. Suddenly, I didn't know how to go on without Micah. While my heart was shattered, the world kept turning. I had to find a way to channel the weight of this devastating loss that had the potential to crush me.
Since Micah died, my need to celebrate his smile has been greater than my regret, guilt, and anger about his passing. Micah's smile was bright and bold. As I approached the first anniversary of Micah's death, I felt compelled to create a way for everyone who loved Micah to celebrate, remember, and give in his honor. I was looking back at photos of Micah, remembering how I wrapped him in rainbow baby carriers. That's when I knew we would celebrate Rainbows to Remember Micah every December 11th.
I created Rainbows to Remember Micah as a way to transform a day wrought with heartache, sorrow, and gloom. Rather than dreading the anniversary of Micah's death and isolating our family to grieve alone, we have built a tradition that nurtures our family's ability to cope. On Rainbows to Remember Micah we wear our brightest apparel, invite our community to join us in making rainbows, and create ways to give in honor of Micah. Every year, the Micah Rainbows are stunning, and bring us peace on December 11th.
Rainbows to Remember Micah is also a day for our family to give back in ways that remind us of Micah. In his lifetime, Micah received 211 units of blood. So, on Rainbows to Remember Micah we donate blood. The risks of necrotizing enterocolitis are lowered when vulnerable infants receive human milk. So, during the six years while I was nursing Micah's brothers, I donated 3,000 ounces of my breast milk to nonprofit milk banks. Micah was often so critically ill in the intensive care unit that we could not pick him up or hold him. To bond with Micah, we read storybooks. So, on Rainbows to Remember Micah we donate new children's books to families in the neonatal intensive care unit.
Every year on December 11th, we make rainbows, give back to others, and savor the videos and photos we have of Micah. We laugh, cry, and celebrate the boy who should be in the backyard playing with his dogs and brothers. Rainbows to Remember Micah doesn't take away the pain, but it certainly provides a way for us to transform our pain into something positive and meaningful. The comfort we receive from our family and friends who join us in celebrating Rainbows to Remember Micah is palpable.
We're reminded that we're not alone in our love and grief for Micah. Our community is with us on this journey, and a community that remembers and celebrates our child is everything that a bereaved parent could hope for.
This article was originally published on