Yes, My Kid Is Too Young To Remember, But We Are Taking The Trip Anyway
by Jessica Burns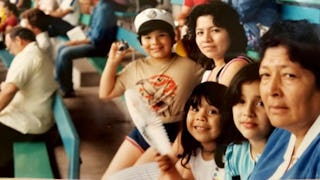 Florida 1985 via Jessica Burns
So often I hear people justify their lack of family travel because their children are not old enough to remember the vacation. This reasoning is so perplexing to me. Who would travel based on another person's memory?
Of course the kids aren't going to remember in infancy or as a toddler, but you will. You will remember the smiles on their faces when they see all those colorful toys in the gift shop. You will remember their dancing along to popular songs or their sweet waves as floats pass by during the sardine-packed parades.
Those are the stories you will recall and retell when your child is going off to college or getting married. The ones they will hear over and over again and smile at the memories. As humans, our retelling of the past is what makes our future. Why not start as soon as we possibly can? Is the fact that they "won't remember" really a valid reason not to experience…life?
My parents would take me to Guatemala as a child. I don't remember a lot of the trips, but I do know that when I went back as a young adult, I felt comfortable in my surroundings. I didn't spend my time there discovering a new way of life. I spent the time having fun with my family. The familiarity of previously visiting when I was younger allowed me to do that. My grandfather passed away when I was an adult so I remember him more than my grandmother, but I still love looking at these pictures that we took together when I was my son's age. I don't remember being here in front of this volcano with him, but that's not the point. The point is, I was there with my family, and I know I was happy.
Guatemala 1983
One of the last trips I took with my grandmother, very soon before she died, was to Disney and SeaWorld. Again, I don't remember this trip at all, but I have the pictures and the stories from my elders to know how much my grandmother loved us. Since my grandmother passed away unexpectedly, I didn't grow up knowing her. What I do know is that we had this time together, time she could look back on for the remainder of her short life and now time I know my parents are grateful for. And now that I'm a parent, I can't help but be inspired to do the same.
Guatemala 1983
Last year, we took our then-2-year-old son to Disney alongside his great-grandmother (Nana), uncle, aunts, and cousins. He got to ride some of the same rides his Nana and father rode together when my husband was his age. It warmed my heart and will forever be a memory that I will carry for my son. I'm sure now, a year later, he's forgotten how much fun he had with everyone, but I haven't.
You see, his great-grandmother was recently diagnosed with Alzheimer's (although we knew her decline began before our trip to Disney). That trip was unintentionally timed in the most magical and serendipitous way — right before my son was old enough to remember it and right before his great-grandmother began to forget.
The magnitude of this is really almost breathtaking and makes me want to cry for them both. How did we get so lucky to have this moment to share with each other before big changes impacted our family forever? What memory would have filled its place if we had chosen to stay at home because my son was too young to remember Disney?
Disney 2016
Realistically speaking, many families do not have the means or opportunity to travel internationally or visit pricey theme parks (hot tip: children under 3 are admitted free at most amusement parks). I understand this more than you know, but I'm talking beyond that. Yes, they are young but these forgettable moments are still changing them. They are significant, and they will shape your child and mold them into who they will be tomorrow. The memories we absorb as their parents are also as impactful as we have not finished learning our truths either.
So my question is, why wait on the memories of your children to travel?
This article was originally published on