Viral Birth Announcement Defends Families That Have Lots of Kids
by Emma Waverman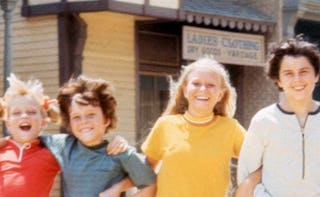 The opening stanza of Raleigh-based couple Andrea and Chad Chapman's birth announcement for their fourth child says it all. The couple have 4-year-old twin girls, a 3-year-old boy and another boy on the way. They were surprised that people's excitement at their birth announcements decreased with each subsequent baby, so they decided to parody Miley Cyrus's "We Can't Stop" to sum up their feelings.
Andrea Chapman, 29, said that when she told people about their fourth baby, "Nobody was excited. I think we went past what everyone's idea for our family was," she told TODAY.com. "For some reason, four is like this odd number in our culture today and it's not celebrated the same way."
The video has resonated with other parents of big families.
When it comes to choosing the size of your family, there is no right answer. It doesn't matter if you have one, two, three, four or more children—you will definitely run into judgment from someone, somewhere.
When I was pregnant with my third child after having two boys, I often got asked if I was trying for "my girl," as if the only reason a person would want a third baby was to balance out some gender dynamics. I wasn't.
My new Zen-like approach to all the judgmental people out there is to assume that their mean-spirited comments have to do with their own insecurities and decisions more than my own. So if a person criticizes the size of my family (Too big! Uneven numbers! Too small!) I assume they wish they had done it differently.
As Andrea Chapman sings in the video:
Can't you see it's we who'll be up all night?
Can't you see it's we who love this life?
In the meantime, Andrea Chapman is happy her college degree and music skills have come in handy as her video racks up views past the 2 million mark.
This article was originally published on