A Mom Is Going Viral For Her Clever Plan To Control Summer Dish Chaos
All it takes is a trip to Walmart and a little color coordination.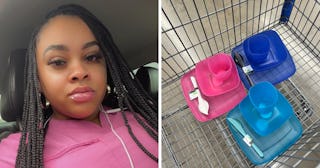 Bianca Majanja / Facebook
There's a lot of downsides to summer vacation: the kids are off from school and you're without childcare, boredom kicks in all too quickly, and, all the while, you're supposed to get everything done that you normally get done. One of the biggest summer struggles for parents with tweens and teens? Dirty dishes that pile up on every flat surface, collect in rooms, and get left in sinks by kids who can't seem to learn and who don't respond to threats.
Is there any solution at all, ever, to summertime dirty dishes? Well, one mom has a plan, and people are loving it.
Bianca Majanja, a single mom of two, is on a mission to solve the problem. She went to Walmart and found some affordable flatwear, cups, and cutlery, and she's color-coding it for her kids. Each kids gets their own set — and they are responsible for it. The end.
"I will not be coming home to a pile of dishes everyday this summer," she wrote in a Facebook post on Wednesday. "Everybody got they own cup, plate and bowl and fork and spoon. they are responsible to wash they own dish and they can only use these. i know who colors belong to who so if i find a plate or bowl in they rooms or where it should not be i know exactly who to hold accountable for it."
It's hard to see a downside: it's affordable, it eliminates sibling infighting, and the rules are easy to follow.
In just a few days, the post racked up over 48,000 shares.
Down in the comments, Majanja gave a bit more of an explanation to those with questions.
"These only 50 cent at wal mart," she wrote to one person who wanted more details. "I'm sick of trying to get my daughter to do dishes. and everybody lying about who left this n that."
Extremely, extremely relatable.
"It's hard out here to us single mothers," she added. "i'm trying to be more organized."
Why not paper plates? Well, with inflation, it's too expensive (not to mention not as great for the earth). And someone else in the comments mentioned the plates are easy to clean and microwave safe.
In the comments, across the web, parents were excited to try the summer dish hack.
"Not me on my way to Walmart!!!! These kids," one parent wrote.
"Team zero dishes - work smarter," another said.
"Love this!"
"I'm going to try it!"
"I'm going to get a set just for me," one parent joked.
A few other parents shared that they have a similar system in their household — some who do it year round. It might just be worth a try!