A Mom Is Defending Her Decision To Allow Her 9 Year Old To Get A Nose Ring
After a viral TikTok video, a mom is responding to criticism that her young kid shouldn't have a pierced nose.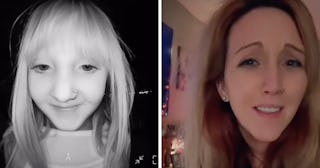 TikTok
Millions of millennial moms have memories of going to the mall to get their ears pierced when they are around 9 or 10 years old. And millions more are happy to bring their kids back to get their own ears done at around the same age. And in some cultures, it's pretty widely accepted to get your baby's ears pierced.
But it turns out that a nose piercing for a 9 year old is a much more debatable topic.
Illinois mom Meagan Black thought that she was posting a silly video of her 9-year-old daughter in December making faces in the family's Ring doorbell camera. But what she got was a lot of judgement from viewers who commented on the hoop in the girl's nose.
The video has racked up over 23 million views and almost 20,000 comments.
"OMG IS SHE 9 or 19 because why would a little girl get her nose pierced?" one commenter asked.
"Where are y'all that small children get nose piercings??" another asked.
Others commented on the child wearing mascara, and looking more like a teenager than a kid.
"She doesn't like earrings so she begged for a nose ring," Black explained in the comments. "I'd rather she got it done professionally vs. her trying herself."
Later, she uploaded a response video to confront the nose-piercing comments.
"About the nose ring thing," she said. "She's 9 years old. If she wants a f—king nose ring, what's the big deal with that? It's not her tongue or her eyebrow. I didn't tattoo her face. She just wanted a simple nose ring like every other American woman or man, from the age of 16 to probably 95. What is the big deal?"
She also added in the comments, "My mom signed for me to get my bellybutton pierced at 13. It's just jewelry." She added, "Everyone parents differently and her nose ring is hurting absolutely nobody."
The comments in the response video are more supportive.
"PREACH IT MAMA!🙏🏻🙏🏻 Don't let anyone tell you how you should parent your children," one person wrote.
"Not against the nose ring at all, i love how it looks," another wrote.
Many were curious about piercing laws, which vary by state. Many states require the presence and approval of a parent or guardian for anyone under the age of 18, though some states, like Connecticut, don't have restrictions. And many body piercing businesses have their own age limits and restrictions, many related to specific types of piercings. For example, a body piercing business might have a nose piercing requirement of 14 and a nipple piercing age requirement of 18.
In Illinois, kids under 18 can get piercing with the written consent of their parent or guardian.