Bet You Can't Guess Where This Cute Clothing Comes From
by Rachael Lubarsky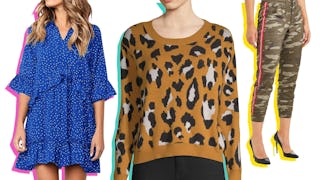 Yes, Virginia, there ARE cute clothes at Walmart. The box store powerhouse has been upping their fashion game with the addition of 600 new brands over the past year and a half that feature cuts, fabrics, and designs to complement your look AND your pocketbook. (Does anyone say "pocketbook" any more? #bringbackpocketbook) We're loving everything about these fall and winter collections literally from head to toe.
RELATED: These Adorable Baby Jean Jackets Will Make You Want To Match With Your Mini
These ballet flats are totally on point. The upper is made of microfiber, padded insole and the outsole is thermoplastic rubber which means comfort from busy day one, Mama.
This casual and comfortable maxi dress can be styled up or down for whatever look you're going for. Wear it with a pair of booties and a cropped denim jacket for a perfect fall outfit.
This high-waisted mid-length skirt flatters every booty and complements any style. We love it paired with a black blouse or turtleneck for the office.
This open shank shoe with its side slit is like one of those backless dresses: All business on one side and skin-baring sexy party on the other.
Love the high-waist trend but trying to figure out how to wear it without looking like your mom circa 1983? Pair a higher waist with a cropped wide leg to keep a more flattering shape. Now, don't say we never did anything for ya.
These are DEFINITELY not your dad's cargo pants. Soft, skinny, and flattering with some spandex to give them plenty of stretch.
Don't be afraid of this asymmetrical blouse. It's unique, feminine, and trendy all in one top.
You won't be blending in anywhere while wearing this fun and cozy camo crewneck sweatshirt with long drop-shoulder sleeves.
Cozy and classy, this bomber jacket adds a touch of badass to any outfit.
We nominate whoever invented jeggings for a Nobel Prize in Physics. These really do flatter any figure with their high rise, slim fit. Science, people.
It's a jungle out there, Mama, so dress the part in these super-soft and stretchy twill pants.
Can't get enough animal print? This leopard sweater features a round neck and ribbed trim cuffs for a look that says safari, so goodi.
We are loving these tapered double knit trousers for the office or kinda nicer events that don't require dresses. Pair with a solid color on top for just the right balance of print.
This ruffley dress is soft and drapey, which means it keeps your wobbly bits under wraps. Pair with tights and knee-high boots as the temps start to drop.
You'll be the literal bomb in this bomber jacket.
These camouflage skinny jeans have the perfect amount of stretch. They're comfortable but run a bit small, so you might want to order up!
Get ready to look hot. But not sticky. This amazing coated Ponte fabric looks like vegan leather but smooths, breathes, holds, and stretches like no other.
Made of super-soft and stretchy denim, these don't require breaking in and are amazing to move in from morning coffee to mid-afternoon crashing out on the couch.
Think overalls can't be stylish? Think again. These are a fun switch up from your everyday jeans. They've got enough stretch to keep you comfy all day.
For days when you feel like just wearing your cozy blanket outside but "social mores" don't allow it.
We know, we know…you LOVE new jeans, but HATE the breaking in process. Problem solved. These super-soft stretch denim jeans fit like a glove from day one. You're welcome.
Reintroducing Scoop — Exclusively at Walmart
Just relaunched last month, Scoop is Walmart's private brand for fashion-forward customers. Check out our favorite pieces from their 100+ collection of size-inclusive and incredibly affordable clothes. Let's go shopping, Mama!
Think "chic and boxy" is an oxymoron? Think again. This pullover is made from super soft yarn fabric that is machine washable and easy to maintain.
It's edgy AND cozy. This distressed crew neck sweatshirt is made from French Terry fabric to keep you comfortable no matter what you're doing.
Get your motor running and pull on this classic statement piece to ride it out. It also looks cool layered it over your favorite sweaters in the colder months.
These are "utility" pants because they are so useful to pair with pretty much anything from your closet. They're wide-leg cut with four handy pockets, which you can use to store your keys….pack of gum…your toddler's left over Cheerios…
Can we please bring back overalls? But not the unflattering, bulky corderoy ones we wore in second grade. These are comfortable, functional, AND stylish with a touch of spandex for stretch. Your second grade self would be jealous.
Bring out your wild thing – but subtly. This oversized leopard print scarf adds a pop of animal to an otherwise tame ensemble.
Fur real, Mama, you'll love to layer up in this faux fur printed bomber jacket. Soft, furry, and super comfy.
Be a knight in white (or blue) satin with this gorgeous long sleeve peplum top. Wear it to work a pencil skirt or trousers or for a night on the town with jeans.
We are drooling over this soft and stylish vegan leather dress. It's got an elasticized waist for a flattering fit and won't cost you a (cow's) arm and a leg.
Although we only recommend picks we really love, we may earn a commission on purchases made through links from our site.
This article was originally published on