Poll Reveals Why "Airport Dads" Force Their Families To Arrive Obscenely Early For A Flight
*Cue the Home Depot theme music*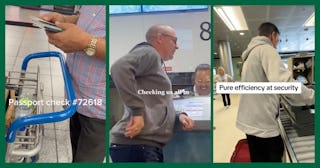 TikTok / @sandra.fam, @tiamcgillx, @alyssacronin1
When I went on my first trip with my husband, he was totally confused as to why I suggested getting to the airport 4 hours before our flight boarded. He looked at me, puzzled, and asked, "Do you want to sit at the gate for three hours?"
Isn't that what every family did?
Growing up, my dad woke me and my siblings up around 4 a.m. for a 10 a.m. flight. We'd drive, park, take the shuttle to the terminal, go through security (all rather easily), and then literally sit at our gate for hours.
He'd hold on to all the boarding passes, trusting no one else to keep track of their own, and led our entire family through the airport like herded cattle.
By the time I was an adult, getting to the airport obscenely early was just part of how I did air travel. You get there early so you're not rushed. Sometimes, we'd get to the airport so early that our gate for our flight was still boarding another flight taking off before us.
Years later, while scrolling TikTok, I discovered that while my husband did not have an "Airport Dad" like me, so many other people did.
According to a recent survey of 1,000 dads in the United Kingdom, there might be a common thread as to why so many of us grew up with Airport Dads (and then turned into Airport Dads ourselves).
Unsurprisingly, it seems that the airport family dynamic has a lot to do with falling into typical gender roles.
Sixty-nine percent of the dads surveyed said that they just fall into the role of taking charge when going on vacation by default. However, 40% of dads included in the survey said that they just become Airport Dads because they believe they're the "best person" to ensure that the travel day all goes off without a hitch.
After Airport Dads willingly (or unwillingly) take on the role as Chief Operating Officer of Vacation, they reported feeling stress and anxiety.
According to the study, 52% of dads said that in order to ensure everything goes according to plan, prepping for a family trip starts anywhere between one to three months (yes, months) ahead of their trip.
Common worries when flying for an Airport Dad include "Do I have everything?" (46%), "Have I forgotten something important?'"(36%), and "Have we packed too much?" (27 %).
So, to keep any such concerns to a minimum, 20% plan their trips "like a military operation."
Ninety-one percent of the dads surveyed also claimed to be in need of a vacation again.
On the bright side, all that planning and early-rising pays off for Airport Dads.
Forty-four percent of dads polled said that all the planning and organizing actually makes them happy and excited, and 43% claimed being an Airport Dad helps them feel organized.
A spokesperson for Jet2holidays said, "Our teams of Customer Helpers have reported lots of amused families having a giggle at 'Airport Dad', so we thought we'd find out more ahead of a busy summer. There's lots to remember and think about when going away – and dads clearly just want to help make sure their holiday goes smoothly and ultimately is fun."
The spokesperson added, "Family holidays are an important occasion and it's great to know that "Airport Dads" are out there and making sure families can enjoy happy memories on their well-deserved holidays."
"Family holidays create memories which stay with us forever."
It's honestly a refreshing take to hear about dads wanting to help contribute and take part in the executive functioning a a family summer vacation. So often, we hear story after story about moms who are left to pack, plan, and do pretty much all the mental work when it comes to family trips.
Airports Dads, while they often operate a bit on edge, can come on my family trip anytime they'd like if it means I get some help with all the work that goes into planning and executing a vacation.