What My Mother Taught Me About Wearing Old Underwear
by Stacy Graebner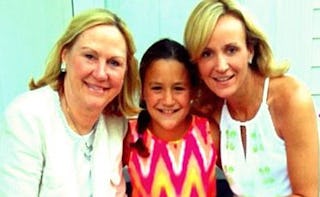 But underneath that flawless exterior she hid a dark secrer: her underwear was 10 years old—and looked it.
I remember being shocked by this when I was a child. She was so glamorous and radiant, how could she possibly wear ridiculously worn-out underwear? Even at 9 years old, I knew that she needed an update.
How could this be?
Now, as a mom, I totally get it. While I have my fair share of new-ish silky lingerie that says, "I'm getting old but I'm not grannypants-old," I also have a side of my drawer with that…other stuff: the clean but well-worn, should-have-been-pitched-years-ago "everyday" underwear.
Going through my bureau the other day, I finally understood why my mom kept that questionable underwear for so long and why, perhaps, it should be recognized as a thing of beauty. Here's what "Eff'd up" underwear now means to me, thanks to my mom:
1. Eff'd-up underwear is a mom's way of saying "it's not me, it's you," and that in itself is beautiful. My mom always made sure my brother and I had clothes that didn't embarrass us (until decades later on Facebook), cleats that fit, snow pants without holes, homemade Halloween costumes, the right jeans, the cutest swimming suits, the warm winter coats. It's really no wonder that lingerie shopping often fell to the bottom of her to-do list.
As for the really important stuff, my mom gave us room to figure things out on our own, but when we wanted to talk, she would put down the green bean casserole, turn off Match Game and listen to us—really listen to us—with empathy and compassion. She showed me that making children feel heard and understood when they are feeling lost and vulnerable is one of the greatest gifts you can give—and yes,you can do that even while wearing the shabbiest of underwear.
2. If you are wearing eff'd-up underwear, there's a good chance you are a badass. My mom was an amazing tennis player. I would watch with awe and pride as she would send the ball flying past her opponents with incredible ease. Sitting on the bleachers as a child,I remember wanting to be strong and wickedly fast, just like her. As I got older, she encouraged me to appreciate my muscular, "sturdy" frame. The one that allowed me to be a pretty good volleyball and basketball player, and an even better long distance runner. My mom taught me that women don't need to be wearing sexy lingerie to be beautiful. Sometimes beautiful means being strong and sweaty in well-worn sports briefs, kicking ass on the court or the field.
3. Eff'd-up underwear also means you're not taking yourself too seriously—and seriously, let's not take ourselves so seriously. There is something awesome about an impeccably dressed woman wearing questionable underwear underneath it all. In fact, I need to be friends with that woman, because she's probably the one in the room who values the ridiculous moments in the crazy world around us.
I grew up in a home with parents and a brother who joked and laughed often, where the unspoken motto was "tease and be teased." As I grow older and life gets more complicated, it seems more important than ever to laugh at my flaws, my mistakes, my idiosyncrasies, and yes, even my pathetic underwear collection. My mom is now in her 70s, and we still make each other laugh—sometimes with each other, sometimes at each other, but always with a lot of love and admiration in our hearts.So thank you, Mom, for teaching me that even the ugliest of undergarments can be beautiful.
That being said, if my husband wants to get me new lingerie for Mother's Day, I'd be totally fine with that.
This article was originally published on