If You Have A "Wild Child," This Viral TikTok Poem Is For You
Hopefully, it finds you when you need it most.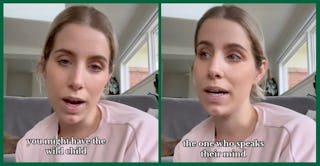 @jessicaurlichs/TikTok
To the moms of the little hellraisers, the rabble-rousers, the tiny (albeit adorable) wrecking balls, the kids with their own unique frequency — you aren't alone. If you have a spirited kid, TikTok mom Jessica Urlichs has a reassuring reminder for you: "Maybe they seem hard right now," but they have "so, so much to give." Urlich, a bestselling author and Etsy creator, shared the comforting words through a poem aptly titled "Wild Child."
Speaking to parents in the caption, she wrote, "Do you have a 'wild child'? Me too. Sending you coffee and strength, but I see you also, watching them shine and not wanting to dim that sparkle. I see you, proud and also defeated. I see you defending them to the ends of the earth at times because you see them for who they are, and they need you too, always, because sometimes others won't. And the world needs them."
Her caption alone is relatable and worthy of big ol' mom tears, but the poem itself is sheer brilliance. Any mom with a kid who is loud, fierce, or stubborn will undoubtedly see their child in Urlichs' words and feel the internal, maternal pull to hug your kiddo as you listen to the poem in this now-viral video.
Right now, you may feel like you're in your trenches with your wild child. As Urlichs points out, your kid is probably outspoken, fiercely independent, and, sure, doesn't always listen. Others may even label your kid "hard" or "roll their eyes" at them.
But, here's the thing, says Urlichs: Your wild child is just that — a child. They're still learning. They're still growing. And as they grow up, those headstrong traits that made them tough to tame will serve them well.
"They're the ones who feel things deeply, who will have a voice that's strong. They'll lead with that big heart of theirs and stand up to what is wrong," Urlichs says, ending with the words all mamas of wild children need to hear. "So maybe they seem hard right now, but they'll change the way we live. With so much good to come, you'll see, and so, so much to give."
Parents flooded the video's comment feed to share their experiences.
"I had a wild child… he's now 20," wrote @middleagedmama. "He's the most empathetic, loving, calm man. The hard part does end, I promise 💕"
"I, too, have a wild child. He is 5. We joke that he will either run the world or burn it down 😂," hilariously commented @kris.d89.
A former teacher weighed in with a little reassurance of her own, saying, "I taught preschool for 7 years… these kiddos were always my favorites! I promise their teachers see how special they are."
Whether you have an intense child or an orchid child or something in between, you're likely used to people who want to label kids. We already know how labels can hurt kids... they can also hurt tender-hearted mamas. In this instance, though, "Wild Child" is less for the wild child and more for the parents. It gently reminds moms of quote-unquote unruly kids that they're exactly who they should be and that, someday, that willful nature might just change the world. Our job right now is simply to love and protect, which is (admittedly) often easier said than done.
There are so many ways people will try to define your child. No matter what outsiders say, your wild child, your precious angel, is yours. And, Mama, your own big heart will go a long way in leading them to put their own big feelings to use for good.
So, sit back and watch them sparkle and shine.