Parents Are Loving This Mom's Genius Diaper Bag Hack
by Megan Zander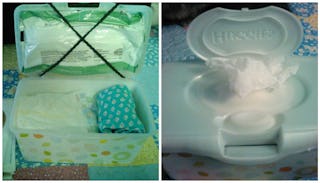 Images via Facebook/The Painted Dragon
You'll want to stash one of these everywhere
We've all been there. Your precious bundle of joy makes an epic mess in their diaper, leaving you clawing one-handed through the diaper bag in search of supplies. Meanwhile your other hand is covered in crap and trying to stop the baby from doing a high dive off the changing table. Changing a baby is the worst. But thanks to a new mom's amazing life hack, dealing with a diaper change doesn't have to come with a side order of hide and seek.
Liz Burchiel is the artist known as The Painted Dragon. She's recognized for her murals and face painting skills, but the new mom to three-month-old daughter Lilly is also using her creative skills to make parenting a little bit easier. Case in point? She hacked an empty wipe container to make a fully mobile diaper changing kit.
The whole idea started with a wipe container that was too pretty to throw away. "I got the wipes from my baby shower and I liked the box they came in and saved it," she tells Scary Mommy. "I was using a regular fabric shopping bag that my friend had made for me for my birthday as a diaper bag because, well, it's really fricken cute, but I kept getting frustrated at the diapers and wipes being all over inside and having to dig them out."
Inspired, she grabbed the empty wipe box. "Because Lilly is so small, she has small diapers, so I started packing them in the box as well as the wipes." Then she added one of those black hair ties we all have lying around to keep the wipes in the lid of the box so she could pull them out through the top.
"I realized there's room for an outfit in there too, so I stuffed that in there," she says. She manages to fit a changing pad and five size one diapers in the container, along with a clean outfit. "I've even put a roll of doggie bags in there too for keeping things clean!"
People are loving this super easy solution for dealing with diaper duty. Her post has been shared over 108,000 times and has over 17,ooo reactions. Burchiel even made improvements to the original design, adding small holes tied with embroidery floss to keep the rubber band holding the wipes out of sight from the outside of the container.
This DIY project is great for organizing a diaper bag and can be helpful in so many situations. Dad doesn't want to haul a diaper bag into the bathroom? Hand him this kit. Crowded flight and baby needs a fresh butt? Grab the kit so you're not saying "excuse me" to everyone you bump with the diaper bag on your way down the aisle. You could even make one to leave in the trunk of your car or at Grandma's in case of emergencies. Are you assembling your supplies yet?
"It really does work awesome!" Burchiel shares. "I've used it in the car and at friend's houses and wherever I go. I have it organized so the first thing I do is set the mat down and then go from there."
Genius.
This article was originally published on