5 Things I Wish I Did Before Getting Pregnant Again
by A. Rochaun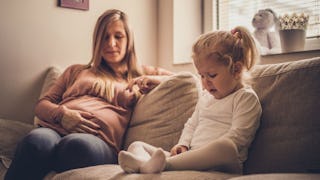 SanyaSM via Getty Images
It isn't uncommon to see "[blank] things you should do before having a child" posts on the Internet. Of course, very few, if any of us, complete this to-do list before wading into parenthood. With so many of us living life out of fairy tale order, it's not surprising that many of us enter parenthood feeling a little clueless and a bit unprepared.
But what about those of us who still feel this way the second time around?
RELATED: Looking For Tips On How To Get Pregnant Fast? Here's What You Should Know
New babies can bring doubt regardless of how many children you've had. But when you've already had one child, you might find yourself feeling a little foolish for making the same mistake of not completing your goals twice..thrice… Or maybe more.
Here are a few things I wish I would have done before getting pregnant the second time around.
1. Love The First One Longer
This is probably the biggest one for me. When I first found out I was pregnant again, I was remorseful mostly because I was afraid of what it meant for the son I already had. How could he know that I love him when that love has to be split multiple directions? Would I still have the energy to play the games we used to play? What would happen to the way we could just get away for the weekend or go to a fun event with nothing or no one to slow us down?
A new baby is going to change a lot for me, but it's going to change everything for my son. I don't want him to have unnecessary responsibilities and limit his childhood. I want him to continue being a kid, and I hope becoming a big brother doesn't rob him of that.
2. Travel
I got married shortly after graduating from college, so independence is not something that I have much experience with. The week before I found out I was pregnant, I went to New York for the first time. It was amazing. It was my first time traveling to another state alone, especially one as intimidating as the Big Apple. That trip was my first time flying alone since my son had been born. I was shocked at how liberating and peaceful it was to have a three and a half hour flight without anyone begging for juice and throwing tantrums after the cookies were gone.
3. Cultivate My Career
I wish I would have spent more time working towards taking out-of-state trips and building a presence as a writer and a speaker before finding out I was pregnant again. Pregnancy comes with a ton of issues that limit my ability to grow in certain aspects of my career. I could have benefited from another 6 months of career growth.
4. Enjoy My Freedom
Although 2.5-year-olds are annoying, most people don't mind watching them because you don't have to bring a suitcase full of baby materials anymore. At this point, he is just fine with a potty seat, TV, crayons, and food. But it's not going to be like that anymore. Soon, if my husband and I want to have a date night, I will have to find someone who's comfortable watching two children, one of which is a very young baby. And a lot of people aren't comfortable around really young babies, due to both minor and major inconveniences. I sure do wish I would have thought about the difficulties of finding a sitter for two children before I saw the positive marks on that test.
5. Mess Around With My Husband
I can remember the early days after giving birth. I was so exhausted sex was the furthest thing from my mind, and when I did feel like it, it had to be done at a time that the baby couldn't sense and interrupt it all. Even when our schedule became more predictable, we had to get into the flow of things again and re-learn more about each other sexually. (Hence, where the new baby came from in the first place.) I wish I spent more time using the freedom that came with a minimally self-sufficient child to have more sex and couple time with my husband.
It's okay to have thoughts about the things you wish you would have accomplished before having children. Having children does not have to be the end of your career, your relationship with other children, or even your relationship with your spouse. The key to making the best of the situation is rolling with the punches and adjusting the love for your family as it grows.
This article was originally published on