A Woman Living With Sudden Memory Loss Forgot Her Daughter But Not Her Maternal Instinct
Each time her memory would reset, she'd panic about the well-being of a child, not knowing she was worried about her child.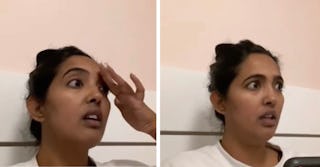 TikTok / Nesh Pillay
There's been much talk that the idea of maternal instinct is actually a myth created by men (and the evangelical movement) to encourage women to have kids, stay at home, and, of course, in a lower status than men. But there might be something to be said about the enduring love and care that a parent can have for their kids.
Shontel Cargill, LMFT, regional clinic director with Thriveworks, describes maternal instinct as "a mother having an innate sense of knowing their baby's needs and having intuitive knowledge about exactly how to care for and support their children."
And while there is some research and nuances that could argue that yes, not just women feel that urge to love and have kids, one woman's incredible journey proves that some people might actually process a "sixth sense" of sorts that only parents get.
After suffering from a traumatic brain injury that caused her to lose her memory, Nesh Pillay, a Toronto-based TikToker, went viral for openly sharing the ups and downs of her memory loss journey with her followers.
In a recently posted video, the TikToker detailed her experience of what she calls "resetting" from her memory loss. Each time her memory would disappear, she would feel extremely concerned about the well-being of a child — not understanding that she was worried about her own little girl.
"I love my daughter, but last year, the unthinkable happened. I lost my memory and I forgot her," she began. "But while I forgot having a daughter. I didn't forget my maternal instinct."
"Whenever my memory would reset (about once a minute), I often found myself in a panic over the well-being of a child."
She then shows footage of herself, seemingly having a reset, looking dazed, asking if "the child" is OK. She repeatedly asks if "the child" is OK before connecting that it is actually her own child she's feeling panicked about.
"Why am I so scared?" she asks.
"Because you don't remember stuff," someone replies.
"Why don't I remember stuff?" she asks.
She then asks over and over for assurance that her daughter, Sinead, is OK and if she can speak to her. Those around her try and remind her that Sinead is sleeping, and the two can chat in the morning.
"The fear for her well-being was so intense that I often couldn't sleep at night," she admits in the voiceover.
While this feeling that Pillay is going through seems unimaginably unsettling, she manages to find the silver lining.
"For me, the lesson is that nothing — not even memory loss — can impede the love between a mother and her child," she says. "Even if one day, my brain fails me. She'll always be in the my heart."
In a follow-up video, Pillay confessed something even more heartbreaking about her memory loss. "What I didn't mention in the [previous] video was that what I thought had actually happened was that my child has passed away," she confessed.
"So, once a minute, when my memory would reset, I thought that's what was happening. And that's why I kept wanting reassurance, and when people would say, 'Oh, you can't speak to her now,' I thought it was because she passed away and people were trying to comfort a grieving mother."
Pillay then went on to say that when she was being comforted, she didn't believe them when they told her that her daughter was all right and just sleeping.
She said that having to come to every minute and thinking her child was not alive was "the worst feeling" she's ever experienced.
The mom then goes on to explain that she would also see graphic images in her head, depicting her child in deep distress and because of her memory loss, she could not differentiate if the images she was seeing in her head were actual memories or just dreams.
Pillay told CTV News Toronto that she and her daughter are now beginning to process the "trauma and grief" experienced by her entire family.
"Having your mom forget you is extremely traumatic," Pillay said of her daughter. "She's processing that in her own way."
Slowly, Pillay says her memories are returning, and to fill the void of the ones that haven't, she's relied on her loved ones and online community.
"My fiancé has had to step up in a big way," she said. "As a family, we're just trying to make things work day-to-day."