Parents Violently Brawl At Youth Baseball Game For 7-Year-Olds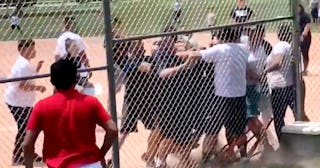 Lakewood Police/Twitter
You can either teach your kids about sportsmanship, or you can get into a huge, scary brawl at their youth baseball game
A summer youth baseball game turned violent on Saturday when a group of poor-sport parents ruined everything by starting a violent brawl related to the game. The event took place between two teams in the Bear Creek Junior Baseball Association while playing a game at the Westgate Elementary School in Lakewood, Colorado.
The players, who you can see running frightened off of the field, are just seven years old. The umpire who "caused" the escalating anger was just 13, and doing the best job he could to keep parents in line.
The brawl was caught on video. Prepare to be totally horrified at your fellow parents.
Lakewood Police arrested five men after the brawl, who were all cited for disorderly conduct and fighting in public. Real classy. They are still looking for information and witnesses, including the identification of the man in teal shorts, seen in the video sucker punching another man.
"It's one of those things people like to gawk at, they like to `Oh my gosh, I can't believe that happened.' But it's serious. People were seriously hurt in this," Lakewood police spokesman John Romero told NBC News.
Things got heated verbally first, and the teen umpire was quick to issue warnings to both groups of vying parents not to use foul language in the stands. But the parents just became more and more incensed until the first punch was thrown and total havoc ensued. During the fight, you can see pushing and punching, yelling, and general disorder while some parents try to break up the fight and other parents look on in disbelief.
This is far from the first time youth sports referees have been abused by parents. In fact, refs are quitting in droves because their job is so thankless — that's why some leagues have turned to kids to take the job.
This is definitely one of these instances where we are just so freaking disappointed in these parents. Us adults are supposed to be role models for sportsmanship, and instead, these parents frightened a bunch of children with violence and idiocy. It's not hard to just go to a youth baseball game and cheer and be supportive and have fun! It's definitely not hard to not break any laws while at the baseball game. It's also definitely not hard to explain to your kid that sometimes umpires make bad calls and that's part of sports and life.
"You know, you have 7-year-olds playing a baseball game and it's the parents that need to grow up," Romero said. "You think it's common sense to not do this at any sporting event, especially around kids," Romero told KUSA. "It's a good reminder for adults: Whether you're a parent or not, you have these children who look up to you, think before you act."
Little League was quick to jump in to denounce the actions of the adults who engaged in the violent behavior, and also to note that the game wasn't a part of the Little League program.
And if all of this isn't heartbreaking enough, the umpire, who we remind you is just 13, feels terrible and blames himself, which is just the worst.
The umpire "feels guilty he could not gain control of the situation and guilty that a … coach is now in trouble for protecting him," a family member of the umpire wrote in a text message to local news station KUSA Channel 9.
And the kids? Well, they get to pay for their parents' shitty actions. The Bear Creek Junior League released a statement that the season is over for both teams, starting immediately.
"BCJSA has ZERO tolerance for this type of behavior….PERIOD," the board wrote on their website. "We are embarrassed, ashamed and angry that this has taken place. As of now, the Jeffco Co-Op has ended the season for both teams involved and all BC coaches and parents identified participating in the incident are being removed indefinitely."
The couple that shot the video says that the last game the teams played, tensions were already present, and parents had written the league director to ask for neutral adult support at a game where only teens are in charge on the field. Sure enough, things got out of hand.
"My heart is broken," said Lizmar Thurber, whose first grader played for the one of the teams. "My heart is broken for our children, both teams, that they had to experience this violence between adults."
Those with information about the fight are urged to call Lakewood Police at 303-987-7111.
If you're about to lose all of your faith in youth sports, we'd like to redirect you to this footage of a kid who stops rounding the bases to tell his dad he loves him.
This article was originally published on