Parents Buy Their Daughter A Spot On UCLA's Elite Soccer Team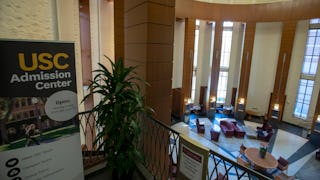 Image via Allen J. Schaben/Los Angeles Times/Getty Images
It took $250,000 in Facebook stock to get Lauren Isackson bought onto the UCLA soccer team, with little soccer experience
As we learn more and more about the national college admissions scandal, more and more stories of kids getting into school through bribes paid by their wealthy parents are coming to light. The most recent story, about how student Lauren Isackson got into UCLA through lying about her soccer talents, might be the most shocking, simply because it shows how many people were in on the secret, how much money it cost, and how low everyone was willing to go to get a rich kid into a better school.
Broken by the L.A. Times, the story chronicles exactly how Isackson got into the school of her choice, and the details are a lot to handle.
It all started when her parents employed the person at the heart of the college admissions scandal, William "Rick" Singer, who billed himself as a college admissions consultant. The parents reportedly gave Singer $250,000 in Facebook stocks, which Singer then used to bribe Isackson onto UCLA's extremely exclusive and competitive women's soccer team.
He allegedly used the money to produce a fake soccer profile, which he then handed off to college soccer recruiters, who in turn passed them to unnamed women's soccer coaches at UCLA.
The UCLA women's soccer team is filled with national and international professional soccer stars – and even players that aren't going to make a career from the sport are standouts in their home states. Isackson, on the other hand, is listed on the roster as an honorable mention all-league selection in 2014 for the West Bay Athletic League in Northern California – although it's unclear if she was even on that. She's also listed as the team captain for Woodside Soccer Club from 2012-16 on UCLA's website, but no one remembers her playing in that league, either.
"Nobody remembers this girl's name," Zak Ibsen, Woodside Soccer Club's director told the L.A Times. "Smells fishy to me."
"Isackson did not play competitive soccer before matriculating at UCLA, prosecutors say, and yet for an entire season she was listed as a midfielder on the roster of a team that finished the 2017 season as runner-up to national champion Stanford," the Times writes. "Her profile on a Pac-12 website says she made no appearances and played no minutes during the season."
As more stories of the college admissions scandal are released, it seems like many of the students were admitted to schools by pretending to be athletes (or better athletes than they were) and through the school's athletic departments, but Isackson is the only student so far who was actually on the roster and given a jersey – for an entire year. While she didn't play a single minute on the team, and while it's unclear if she even attended practice, she had a number on her back.
One of the most upsetting aspects of this close-up look at the scandal is that it outlines just how many people knew about the cheating: certainly the girl and her parents (Isackson was CC'ed on emails about the situation), as well as Singer and the recruiters. But this reveals that coaches and people inside the university knew as well – the conspiracy continues to grow.
So far, fifty people have been indicted, from parents to recruiters to coaches, and it's hard to see how more won't follow.
Really, everyone just seemed to be so bold and brash about it – take, for instance, how her soccer bio reads, "takes becoming the champion of her horseback riding division two years in a row as her greatest athletic thrill." That's right: she's on an elite college soccer team, but she likes and excels in horseback riding more.
As the story spreads, some wonder how it could have possibly happened, and others question if their kids didn't lose a spot to someone with a lot more money who was willing to break the rules.
We've always known that college admissions weren't a fair process, and that they greatly favored the rich, well-connected, and privileged, but this admissions scandal shows just how big and blatant the problem has been, and how some wealthy families have been cheating to win, even when they already have every other advantage.
Isackson, who started school in the fall of 2016, is reportedly still attending the university.