Parents Given Suspended Jail Time For Not Vaccinating Their Children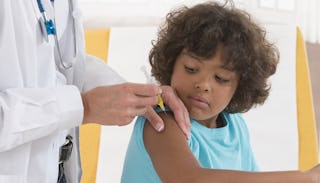 These parents are facing a suspended jail sentence for not vaccinating their young kids.
If you thought anti-vaccine fervor was limited to the United States, think again. A French couple has received a suspended jail sentence for refusing to vaccinate their two young children against polio, tetanus, and diphtheria.
Marc and Samia Larere have a three-year-old and a 15-month-old, and their refusal to vaccinate first came to light when they couldn't show proof of vaccination to enroll their eldest child in daycare. In France, proof of vaccination is required before a child can attend daycare, school, or participate in sports programs. Some shots — like the one for measles, mumps, and rubella (MMR) — are not required by law, but the diphtheria, tetanus, and polio shots are.
According to the Sydney Morning Herald, the Lareres were charged with refusing to undergo mandatory vaccination, which carries a maximum sentence of six months in jail and a $5800 fine. Ultimately, they were ordered to serve a two-month suspended jail sentence. Reports don't indicate whether or not their children will finally be vaccinated.
The case has been ongoing since October and has received widespread attention in France. When asked why they refuse to vaccinate, the Lareres told The Guardian they believe it does more harm than good. Said Samia Larere, "There are serious studies carried out today that prove that vaccines can make our children ill more than protect them… There are additives, like mercury and aluminium, which are dangerous."
According to the CDC, most vaccine makers no longer include the additive that contained trace amounts of mercury, and there is no evidence that the small amounts of any current additive cause adverse health effects. Still, many refuse to believe it. Baseless fear of vaccination has become much more widespread in recent years, and we're starting to see the consequences. In 2015, the United States had its first measles death in 12 years. The Australian government just had to announce a new policy to withhold certain federal benefits from parents who refuse to vaccinate. Last month, a Texas woman was even visited by Child Services after it came to light that she was organizing "pox parties" to help her anti-vaccine group gets their kids sick with the chickenpox.
Despite the continued fear-mongering by people who cite debunked studies and things they read on anti-vaxxer blogs, vaccines are the best way to ensure a child's continued health. Declining vaccines because of your "personal beliefs" puts other people at risk, and even worse, it leaves the unvaccinated child vulnerable to illnesses they never need to suffer through. Refusing to vaccinate your children against polio isn't a personal choice; it's negligent.
As French health minister, Marisol Touraine, said of this case: "Freedom stops where public health begins." If a parents' choices are a danger to their own children and a danger to countless others, there has to be some sort of consequence. Vaccines are not toxic, but diminishing herd immunity and leaving your kids vulnerable to things like polio and diphtheria certainly is.
This article was originally published on