Why All Parents Need To Have The 'Porn Talk' With Their Kids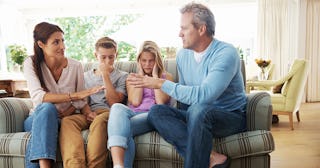 pixdeluxe/Getty
Parenting is hard. Very hard. It is full of stress and anxiety. Of tough love moments and worry-filled nights. It is exhausting. From two months to twenty years, raising kids is tough, and it is full of difficult conversations. From discussions about racism and bullying to sexting, drugs and alcohol, consent, spirituality, romance, and divorce, parents must share numerous life lessons with their children before they leave the proverbial nest. But one conversation many parents do not think to have with their children — even though we all really need to — is about pornography.
Yes, you need to have the "porn talk" with your kids.
Of course, parents may not think having a separate, porn conversation is necessary. After all, parents know they need to discuss the matter of sex with their kids — and porn is (more or less) part of this discussion. But talking about porn, in and of itself, is important.
"It is essential you have the 'porn talk' with your kids because their sexual health and safety should always come first, regardless of your view or comfort toward porn," Dainis Graveris — a certified sex educator and relationship expert — tells Scary Mommy. "It's very easy for kids these days to stumble upon or intentionally access sexually explicit videos and images on the internet, and when they are faced with confusing or potentially dangerous content, you want to assure them that you are someone whom they can trust." You also want them to know what porn is, and what it isn't.
"When you talk to your kid, you must highlight that 'porn sex' isn't real," Graveris explains. "The scenes the actors depicted come from exaggerated, entertainment-driven fantasies that don't reflect real-world people and their real-life experiences, and the majority of adult entertainment companies create content that sells and makes them a whole lot of money. They don't care if they are within most people's safe practices and sexual realities." And Jackie Golob — a sex and relationship counselor — agrees.
"It is important that children know porn is not the equivalent of sex," Golob states in an email to Scary Mommy. "For years, porn has depicted unreal sexual performances, mainly aimed towards masculine pleasure… [and while] there are several types of porn that aim to be more inclusive of all genders, body types, sexes, disability, and ages, even with the progressiveness in porn, it is not 'real.'"
There is also the issue of consent.
"Sex requires consent, which is not always shown in porn. In fact, it is a major part of sexuality and healthy relationships," Dr. Mary Jo Podgurski — a sex therapist, educator, and the author of Sex Ed is in Session — tells Scary Mommy. But the absence of consent in porn is problematic, especially if children perceive pornographic encounters as real.
That said, having the "porn talk" with your child is not easy. Like the sex talk, it is awkward and clunky and all-around uncomfortable. But discomfort shouldn't (and does not) negate the importance of the conversation. Instead, you should address the elephant in the room.
"Saying 'this is a difficult topic for me (if that is the case) but I love you so much that I want to talk about everything with you' and/or 'I know you are old enough to talk about this' is a great way to start the conversation," Podgurski says. You can also begin with open-ended questions. "'You may be curious about porn. Have you heard about it at all? It's OK to share. I won't be angry or think less of you.'"
Once you've initiated the conversation, it is important you follow through.
"Stress porn is not real life. Real people do not just do sexual things. They talk about life; they develop relationships, and they interact. People in porn are actors and actresses. Most bodies do not look like theirs," Podgurski says. State clearly that porn is not a form of (or substitute for) sex education. The purpose of porn is to be engaging and entertaining. It is a business, through and through. As such, it lacks the intricacies essential to healthy relationships and even healthy sex. "True sexual education includes discussing various matters, including communication, consent, sexual health, identity, emotional and physical growth, pleasure, empathy, and worthiness." And speaking of consent, it is imperative you talk about consent.
"In porn, consent is often missing, but having consent is the most important aspect of any sexual contact," Podgurski stresses. "Explain cajoling, assuming consent, and manipulating are not part of healthy sexual expression."
And finally, realize this conversation is not one and done. Questions should be encouraged. Ongoing discourse is (or, at the very least, should be) expected. But the sooner you begin talking to your children about sex and porn, the better, the safer, and the healthier they will be.