TIME Profiles Parents Of Children Murdered In School Shootings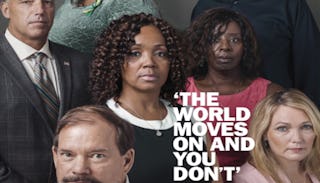 Image via Twitter/Time
Parents who lost their children to mass shootings have formed an 'invisible network' of support
The upcoming cover of TIME magazine features parents of children who have been murdered in school shootings all across the country. Four mothers and three fathers are pictured together in a heartbreaking image of parents grieving their young children.
The image accompanies a harrowing headline: "The World Moves On And You Don't."
For the story, TIME highlights the "invisible network" of parents who have found comfort in a group "no one wants to join." Several of the parents featured found one another, informally, by reaching out on Facebook to offer support and guidance in the wake of each school shooting tragedy.
"It's a club you spend your whole life hoping you won't ever become a part of," says Nicole Hockley, whose son Dylan, 6, was killed in the December 2012 shooting at Sandy Hook Elementary School. "But once you're in, you're in."
She says a month after her son's death, a group of fellow surviving parents of past school shootings traveled from different states to her town to show their support.
Another father, Bob Weiss, lost his daughter in the Univesity of California shooting in Santa Barbara back in 2014, says he has several contacts in his phone who are all bereaved parents who lost their children in shootings. "I would consider them some of my closest friends," he says.
The parents all come from different backgrounds, and they don't collectively share the same political beliefs. But the one thing that unites them all is that they've lost children to gunfire. They check up on each other, they ask about one another's surviving children, and they text each other on the anniversaries of their children's deaths.
Their common ground is unlike anything else that creates a human connection. For instance, many of them experienced a similar procedure immediately after they were informed their children were involved in a mass shooting. Rhonda Hart, who lost her daughter in May in the Santa Fe shooting, shares an anecdote that will destroy you:
"They asked, 'At what point did you know what was going on? Was it when they sat you in the little room? Was it when they ordered pizza? Was it when the FBI person came in?' We realized that our experiences were the same."
Because school shootings have become so common, many schools follow the same routine in the immediate aftermath while gathering family members in one area to await news. "They have the response down to exact science. 'Who's ordering the pizza?' There's a protocol."
Most importantly, they all remember when the tragedy fades away for the rest of the world. "When you lose a child violently and publicly, there's an outpouring of support at first," says Sandy Phillips, who lost her daughter Jessi in the Colorado movie theater shooting in 2012. "Once the vigils are over and the media is gone, that's when things get really bad. The world moves on, and you don't. You can't. It's a pain you can't outrun."
It's a heartbreaking reality for far too many parents and families. Mass shootings are an epidemic that the United States government, for politically-motivated reasons, refuses to contain — the list of parents in this invisible network will only grow in length.
Some of the parents featured have become politically active, hoping to change laws in favor of gun safety. Others have been motivated to become support systems for other grieving families in their community.
But they all remain in contact with one another — even if their lives are busy, something as simple as a reacting with a "heart" on Facebook photos of their dead children sends a message that their kids won't be forgotten.
It's utterly devastating.
Most of the parents interviewed described how their lives have fallen apart since the senseless loss of their children. "I used to have a good life, a blessed life, but it's ruined now," says Andrew Pollack, whose 18-year-old daughter Meadow was killed in Parkland. "My kid is dead."
He says he grows frustrated with the way the outside world addresses the manner in which she was killed. "She didn't 'die.' She didn't 'pass away,'" he says angrily. "She was shot nine times at school. She was murdered."