Paris Hilton Opts For IVF So She Can Ensure 'Twins That Are A Boy And A Girl'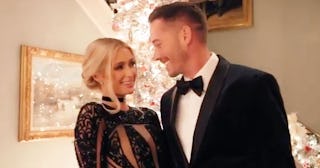 Paris Hilton/Instagram
Paris Hilton says beginning her IVF journey with her boyfriend has been "tough," but "worth it"
Thanks to advancements in science, technology, and medicine, there are more and more "non-traditional" paths to parenthood — including procedures that can help LGBTQ+ couples, single people, and couples battling infertility become parents. IVF has become a more common procedure in recent years, and now even Paris Hilton is opening up about her IVF journey — though her motivations for taking this route to becoming a mom are a little bit unexpected.
During an appearance on The Trend Reporter with Mara podcast, Hilton revealed that she and her boyfriend, Carter Reum, have started IVF. She praised Reum for being "so supportive," and then explained why they've decided to use IVF to start their family: It's "the only way" she can ensure that she has "twins that are a boy and a girl."
"We have been doing the IVF, so I can pick twins if I like," Hilton shared, adding that she learned about that option from Kim Kardashian, who has welcomed two of her children with the help of a surrogate. "I'm happy that she told me that advice and introduced me to her doctor," Hilton said.
She went on to share that she's already completed the egg retrieval part of the process, and that she and Reum are moving ahead with becoming parents soon.
"It was tough, but I knew it would be worth it. I did it a couple of times," she said. "Just doing it together and having a partner that is just so supportive and always makes me feel just like a princess all the time … that it wasn't that bad."
Hilton added, "I'm really excited just to move on for the next step of my life and finally just have a real life. Because I really do believe that having a family and having children is the meaning of life. And I haven't got to experience that yet, because I didn't feel like anybody deserved that love from me, and now I finally found the person who does."
Hilton and Reum have known each other for more than a decade, and started dating in 2019 after they reconnected at a family dinner. Just last month, she celebrated their one-year anniversary by sharing a video montage of them and a sweet caption.
"I can't believe it's only been a year. It feels like I've been with you a lifetime!" she wrote. "I have never felt so close to another person in my life. And that's because you're the first one who tore down the walls I built around my heart and opened up my heart in a way that I didn't know was possible."