A Moment Of Beauty Amidst The Horror: Parisians Sing French National Anthem While Exiting Stadium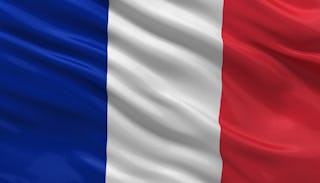 Image via Shutterstock
Many of us spent last night glued to the television watching horrifying scenes unfold in Paris, France in the wake of deadly attacks on several locations. There's plenty of disturbing video footage documenting explosions, gun fire and sadly, casualties lying in the street. Amid all the horror, hope and love still managed to prevail. A beautiful example of that is a video of people singing the French national anthem as they calmly exit the Stade de France, one of the attack locations.
France was playing Germany yesterday in a friendly soccer match at the Stade de France when the attacks broke out. CNN reports that four people were killed outside the stadium in Saint-Denis, a suburb to the north of Paris. There's video footage of the game where two explosions can be heard in the background, one of which appeared to be a suicide bombing. 80,000 spectators, including France's president, Francois Hollande, were gathered to watch the game. The president was swiftly brought to safety, but many people elected to remain inside the stadium instead of venturing outside into a potentially unsafe situation. Eventually, they evacuated in small groups and that's when a hallway full of people spontaneously joined in song:
The song is "La Marseillaise," the French national anthem, and the effect is breath-taking. It says a lot about the human spirit and the French people that they found a bright light in such a dark and trying moment. Seeing the French flag waving and hearing their steady voices in song is incredibly moving. It's hard to have hope in such a sad and frightening time, but these spectators found strength in each other and it's simply beautiful to witness.
We will surely find out more devastating details in the coming days as the final death toll is determined and we learn more about the attackers. As of now, Paris police forces say the number dead is 128 with another 180 injured, 99 of which are in critical condition. ISIS claimed they're the ones behind the attacks through a statement posted online and said that eight attackers wearing explosive belts and yielding machine guns were responsible for coordinated sieges on select targets. Eight attackers were reportedly dead by the end of the night, seven by suicide bomb. President Hollande has vowed a "ruthless" response to the attacks calling them "an act of war." This is only the beginning in what may prove to be a long battle.
This information is so terrifying to hear and has a feel similar to the events of 9/11, in that we don't know if more attacks are forthcoming. In this time of fear and uncertainty, we need to take comfort in each other and remember that in the end, love will prevail. As long as we are still opening our doors to strangers in need and rising in song together during our darkest hour, we will come out on top. Love always wins.
This article was originally published on