Parkland Dad Tricks Ex-NRA President Into Giving Graduation Speech
by Kristine Cannon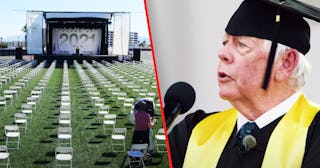 Change the Ref/YouTube
The 3,000 empty seats at the faux graduation represented students who didn't graduate this year because they were killed by gun violence
On June 4, 2021 former NRA president David Keene donned a cap and robe, stood on a stage, and delivered his graduation speech to a stadium full of more than 3,000 empty chairs. Keene thought this was a rehearsal for the James Madison Academy's 2021 graduating class; but really, the 3,044 empty chairs represented "The Lost Class," a group of students who didn't graduate high school this year because they were killed by gun violence.
The people who "tricked" Keene into giving a graduation speech to a fake school? A Parkland victim's parents, Manuel and Patricia Oliver. The Olivers' then-17-year-old son, Joaquin Oliver, was killed in a now-infamous mass shooting at his high school in Parkland, FL three years ago.
The Oliver's goal with the stunt was to raise awareness and demand universal background checks for gun sales. "Ironically, had the men conducted a proper background check on the school, they would have seen that the school is fake," the Olivers' advocacy group for gun reform, Change the Ref, said in a press release, per Buzzfeed News.
Trigger warning: The following video contains 911 calls made by students and parents during mass shootings at various high schools.
In Keene's speech, he tells the empty chairs "what an honor it is…to help celebrate" the now-deceased students' "graduation."
"There are some who will continue to fight to gut the Second Amendment, but I'd be willing to bet that many of you will be among those who stand up and prevent them from succeeding," he says in his tone-deaf speech.
Keene's speech was part of an organized plan by Olivers' organization, Change the Ref, who took footage of the graduation speech and interspersed it with haunting audio from actual 911 calls made during mass shootings at various schools.
"This year, 3,044 students won't get the chance to graduate because they were killed by a gun," Change the Ref states. "It's time we pass universal background checks, so we can protect our students and make sure more of them make it to their graduation day."
Keene — who was President of the NRA from 2011 to 2013, is currently an NRA Board Member, and has raised millions of dollars to block universal background checks — wasn't alone in addressing the empty seats. John Lott, a gun-rights activist and author, also took the stage.
"Gun control advocates and Democrats will fight you tooth and nail," Lott said. "They want to go off and say we've stopped three-and-a-half million dangerous people, I look at it as we've stopped three-and-a-half million law-abiding citizens who wanted to get a gun."
After giving his speech, Lott said he was told the commencement was canceled because of security threats. And it wasn't until Wednesday that he found out that the event was fake.
"You're telling me the whole thing was a setup?" Lott told BuzzFeed News. "No, I didn't know that."
Manuel called both Keene and Lott "part of the problem."
"We need to call them out, we need to show everyone — this is how they process the logic behind the gun industry," he told Buzzfeed News. "We need to show we're brave and we're not afraid of these guys," Oliver said. "We've already felt the worst possible situation. There's no threat that can make me feel different."
To join Change the Ref in the fight against the gun violence epidemic — and help prevent future tragedies — sign Change the Ref's petition here.