Parkland Teens Use Their Clear Backpacks To Send A Clear Message About How Ridiculous This Is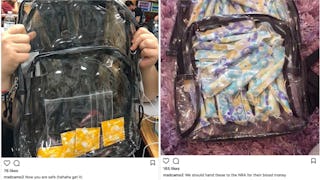 Image via Instagram/msdcamo2
Does anyone actually think clear backpacks are a solution to school shootings?
After 17 people were killed within its walls during a shooting on Feb. 14, Marjory Stoneman Douglas High School is implementing some new safety measures. Some of the changes that have been proposed include the use of metal detector wands as students enter the school, ID badges for staff and students, and a single point of entry for the school.
But now that the kids there are back from spring break, they're trolling the "safety measure" that just got implemented: They're now required to use clear backpacks at school.
Never mind that this would have had absolutely zero effect on Nikolas Cruz, who wasn't even a student at the time he stormed the school with an AR-15 rifle that wouldn't have fit in a backpack anyway. While the solution to saving our kids from being gunned down in their classroom desks is shockingly, demonstrably clear, this is what the powers that be are placating them with while they continue to avoid making real change to gun laws.
Except the kids aren't being placated. LOL at anyone who has seen them organize and fight back and thought they'd take this joke of a safety measure seriously.
The kids have been posting photos of their new safety swag to Twitter, and pretty ruthlessly laying down why this is a stupid, empty measure that's distracting from the real things that could protect them, like real gun control.
They're also pointing out that these backpacks are a huge waste of money, which is ironic since money is more important to politicians than children's lives.
In addition to the clear backpacks, MSD kids are now required to go through bag checks to get into their school. And yes, they're dunking on that, too.
Aside from being rightfully annoyed, some are taking the idea of "safety" to a whole new level of amazing trolling.
And then there's Delaney Tarr who tweeted a photo of her tampon-filled backpack to Marco Rubio.
She wasn't alone — student-activist Cameron Kasky was sure to let the whole school know what he's got in his brand-new backpack.
Feminine hygiene products for all, pretty much.
At least they're trying to have a sense of humor and find a tiny silver lining.
No wonder the kids are just not here for this. It's maddening that anyone thinks this is a helpful measure. It's long past time to do something that will actually help, and clear backpacks aren't going to cut it.