Parkland Victim's Dad Marks Daughter's Birthday: 'She Will Be 14 Forever'
by Thea Glassman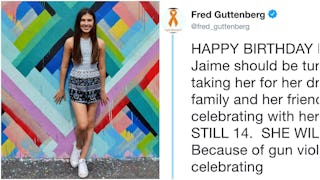 Image via Twitter
The family and classmates of a Parkland victim wrote heartfelt notes on her 15th birthday
Today would have been Jaime Guttenberg's 15th birthday. Tragically, her life was cut short when a gunman opened fire at Marjory Stoneman Douglas High School. Family, friends, and classmates took to Twitter to share heartbreaking messages about the teen, who they called a sweet and talented young woman.
Fred Guttenberg began his gutwrenching Twitter thread by saying that he won't be able to celebrate his daughter's birthday.
"HAPPY BIRTHDAY BABY GIRL!!! Today, Jaime should be turning 15. I should be taking her for her drivers permit. Her family and her friends should be celebrating with her," he wrote. "TODAY, JAIME IS STILL 14. SHE WILL BE 14 FOREVER. Because of gun violence, we will not be celebrating her birthday. Instead, we are broken, crying and mourning. "
He talked about never getting to see his daughter graduate, get a job, walk her down the aisle, and have children.
Guttenberg added that he watched his daughter's Bat Mitzvah video to feel connected with her, and came across footage of her when she was still in the womb.
"How fitting that the video starts with Jaime's heartbeat before she was actually born and ends with the song Hall Of Fame and the words 'and the worlds gonna know your name,'" he wrote. "Jaime Guttenberg, the world knows your name."
Jamie's mom Jennifer took to Facebook to share powerful words about loss and the need for common sense gun laws.
"I should be posting pictures of her smiling and holding her driver's permit," she wrote. "She should be driving a car today. She should be spending the day with her family and friends and not laying in a grave. I feel sick. I am horrified. I feel more sad than I've ever felt in my life. I am heartbroken. I am empty."
Jamie's siblings, Jordana and Jesse, also posted loving, heartbreaking messages on their sister's birthday.
"2016: I surprised her with her gift at nationals, 2017: I took her to dinner at The Melting Pot," Jordana wrote. "2018: I sat alone at her grave and read her a birthday card."
Messages from former classmates, teachers, and friends poured in as well.
If you'd like to make a donation in Jamie's memory you can give to the Guttenberg's foundation Orange Ribbons for Jamie, which delivers funds directly to causes that were close to their daughter's heart, including dance, anti-bullying, and children with special needs.