20 Things For People Who Love Parks And Rec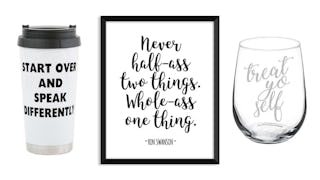 Images via Walmart and Amazon
I like AND love Parks and Rec, and I may or may not have rewatched the complete series over a dozen times.
It's a hilarious mockumentary that focuses on Leslie Knope and her passion for her three favorite things: friends, work, and waffles. She works at the Parks and Recreation department in the small town of Pawnee, Indiana, and hilarity ensues.
I adore all the characters on this show. Like Ron Swanson, who hates government but loves breakfast food. And April Ludgate, who hates people but loves Andy. And Jean-Ralphio, who loves to sing-speak things like "the worrrrssssst."
If you haven't watched it, you seriously need to get on that. And here are 20 gift ideas for anyone else who loves this show:
This Leslie Knope Mug says it perfectly, "Be the Leslie Knope of whatever you do." Damn straight.
This Li'l Sebastian Hoodie is a great gift for anyone who immediately started singing the "Bye, Bye Li'l Sebastian" song when reading this.
A Leslie Knope Collectible is another gift idea for people who aspire to be eternal optimists like Leslie.
Or maybe a Ron Swanson Collectible is more your style if you like things like steak and woodworking.
And this Ron Quote Mug says, "If there were fewer people here and more food, this party would be perfect." Which is how I feel about every party.
Ron Swanson lovers will also appreciate this Meat Tornado Tee, which is great for anyone who thinks of vegetables as "food that their food eats."
Ron's Pyramid of Greatness Poster is another excellent gift for anyone who loves all things Ron Swanson.
There's also this Ron Quote Travel Mug that says "Start over and speak differently," which we've all wanted to say to at least one person.
This Ron Silhouette Tee is a cute way to pay tribute to our favorite mustachioed carnivore.
For Donna Meagle fans, there's this stemless Treat Yo' Self Glass which is great for sipping on whatever your heart desires.
For any coffee lovers wondering, yes, there's also a Treat Yo' Self Mug. You're welcome.
There's even a soft Treat Yo' Self Hoodie if you'd prefer it in comfy swag form.
You can't go wrong with getting The Complete Series on DVD.
True fans will love this Mouse Rat Tee while they pretend to be a groupie for Andy's band.
This Pencil Set comes engraved with things like "A-Okay Coolio Beans" and "Happy Galentine's Day" and is a fun gift for any fan.
This Jean-Ralphio Quote Mug captures the essence of Jean-Ralphio in a single quote.
This Ovaries Before Brovaries Bracelet is a great gift for the ladies in your life. (And for anyone wondering, yes, it also comes in "Uteruses Before Duderuses.")
A Leslie Magnet says, "I am often inspired by myself," and is a great gift to let the strong ladies in your life know they inspire you, too.
This Ron Quote Print has my all-time favorite Ron Swanson quote, and it's pretty sage advice.
This April Quote Mug sums up everything we love about April Ludgate and is also my life motto.
I couldn't possibly choose a favorite out of this list, but I will never stop loving and rewatching this show. #TeamAprilAndAndy forever.
We may earn fees from purchases made via links on this page and affiliated sites. All opinions are our own.
This article was originally published on