Parler Has Been Suspended From Apple, Google And Amazon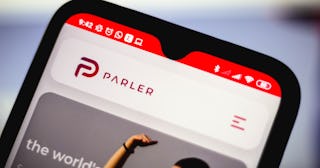 Rafael Henrique/SOPA Images/LightRocket via Getty Images
If the app can't find another host following its suspension from Amazon today, Parler could go offline
Buh-bye, Parler.
Parler, the social media app that's been used by Trump supporters to spread hate and coordinate the attack of and insurrection at the Capitol building on Jan. 6, has been suspended by Google Play Store, the Apple App Store, and, more recently, Amazon's web hosting services. Amazon gave Parler the boot from AWS, its web hosting service, effectively pushing the app offline until it finds a new host. And if it can't? The app could go offline.
"Recently, we've seen a steady increase in this violent content on your website, all of which violates our terms," an AWS Trust and Safety team told Parler Chief Policy Officer Amy Peikoff in an email obtained by Buzzfeed News. "It's clear that Parler does not have an effective process to comply with the AWS terms of service."
According to Parler CEO John Matze, Parler could be unavailable for up to one week as they "rebuild from scratch." He added that they have "many competing" for their business.
"Amazon, Google and Apple purposefully did this as a coordinated effort knowing our options would be limited and knowing this would inflict the most damage right as President Trump was banned from tech companies. This was a coordinated attack by the tech giants to kill competition in the market place," Matze wrote. "We were too successful too fast. You can expect the war on competition and free speech to continue, but don't count us out."
Prior to Amazon, Apple removed Parler from the App Store, stating that that there is no place on their platform for threats of violence and illegal activity.
"Parler has not taken adequate measures to address the proliferation of these threats to people's safety. We have suspended Parler from the App Store until they resolve these issues," Apple wrote on Saturday evening, per The Verge.
On Friday, Apple issued an ultimatum to Parler. In it, they demanded Parler remove content in violation with its policies and provide a plan on how it would moderate content moving forward — within 24 hours. If they did not make the changes, they would be removed from the App Store. And while Parler did make some changes, they were insufficient.
"The processes Parler has put in place to moderate or prevent the spread of dangerous and illegal content have proved insufficient," and that Parler will not return to the App Store until they demonstrate their ability to "effectively moderate and filter the dangerous and harmful content" on the app.
Matze responded to Apple's move, too, claiming that "Apple will be banning Parler until we give up free speech, institute broad and invasive policies, like Twitter and Facebook, and we become a surveillance platform by pursuing guilt of those who use Parler before innocence."
Google was the first to pull Parler, on Friday night.
"We're aware of continued posting in the Parler app that seeks to incite ongoing violence in the U.S.," Google said in a statement. "We recognize that there can be reasonable debate about content policies and that it can be difficult for apps to immediately remove all violative content, but for us to distribute an app through Google Play, we do require that apps implement robust moderation for egregious content. In light of this ongoing and urgent public safety threat, we are suspending the app's listings from the Play Store until it addresses these issues."