A 'Party Of Five' Reboot Is Coming!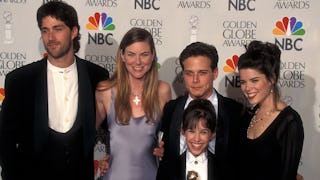 Image via Ron Galella, Ltd./WireImage/Getty Images
The show will center around a group of siblings left alone after their parents are deported
If your '90s experience was anything like mine, then you used to spend hours on the phone with friends talking about Charlie, Bailey, Julia, Claudia, and Owen as if they were actual people instead of fictional characters in a television show.
Party of Five may not have been as popular as those kids in Beverly Hills who hung out at the Peach Pit, but there was enough drama in the Salinger family to make the show plenty entertaining (and Scott Wolf's dimples didn't hurt).
Hollywood agrees, which is why Disney's Freeform just made the exciting announcement that they're putting together a reboot of the series — this time with a new plot line that will strike a cord with anyone who follows the news these days.
In case you don't recall, the original Party of Five followed five siblings as they learned to carry on after losing their parents in a car accident. The reboot will center on the five Buendias siblings, who have to learn how to navigate life together after their parents are deported to Mexico.
While this means we may never find out whether Claudia was ultimately happy choosing Juilliard over Stanford, major respect to Freeform to taking on such a relevant topic. Dramedy plots are usually more entertaining than relatable (it's not every day a college student takes guardianship of his four younger siblings) but families getting separated due to this country's broken immigration system is something that's actually happening right now in real life.
This is so much more than a plot twist. It's a show daring to offer diverse story lines that reflect the reality of living in America today. For that reason alone, the relaunch of Party of Five is already one of the best new shows of the year.
Fans of the series took to Twitter to share their excitement over the news.
There was this brilliant idea to tie the reboot and the original together.
Superfans may recall that Julia actually got an internship offer with the National Organization for Women at the end of the first series, so this could actually happen. Writers, make a note?
Of course, there are those who just want to know if the original cast will be making an appearance at all.
Another solid idea for the writers' room to consider.
In a best opening credits song throw down, "Closer to Free" wins over "I'll Be There for You," hands down.
Original series creators Amy Lippman and Chris Keyser are set to both write the pilot and serve as executive producers for Party of Five version 2.0. Rodrigo Garcia will direct. So far only a pilot's been ordered, but hopefully an entire season (at least) will get the green light.
We'll be watching.
This article was originally published on