What Should You Wear For Passport Pictures? Get The Rules Right Here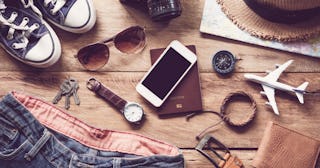 Atit Phetmuangtong/EyeEm/Getty Images
We're all dreaming of travel right now — such is life in the era of social distancing and heightened safety precautions. Well, we're here to help you scratch that desire for travel with a handy-dandy guide on what to wear in your next passport photo. As you probably know, this can be a really stressful topic. You might even get hives just thinking about standing in line and taking a passport photo. Let's start with the good news: Your passport photo only shows from your shoulders up. And you can take your own picture at home if you want. What you dress in — ahem — below the waist is totally up to you. Beyond that, there are some recommendations for getting the best (and let's be real, the most flattering) photo possible. There are also passport picture rules to remember, though.
If international travel is on your agenda in a post-COVID-19 world, a passport photo is a necessary evil. You may be the family photographer and prefer staying behind the camera, but passport photos mean you've gotta give up that role — at least for the day. So, what do you wear for a passport photo? Can you wear makeup? Glasses? What about your hair? We've got the scoop straight from the U.S. State Department, and we're gonna share all the details down below. Here we go!
What should I wear in my passport photo?
Thankfully, there aren't many hard-and-fast rules about what to wear in a passport photo. We list the important ones below (along with some of our recommendations on wardrobe choices)
First, no headgear. That means no hats, glasses, sunglasses, face masks, scarves, or anything that blocks the view of your face. Even big headbands or other hair accessories could get your photo rejected. When in doubt, take it off. The one exception to this rule is anything worn for medical or religious purposes. If you have some sort of equipment or accessory you can't take off for a medical or religious purpose, you will have to sign a written statement (and a doctor's note for medical devices) and submit it with your photo.
Second, no uniforms or anything resembling a uniform, including service uniforms, work uniforms, and even sports uniforms. You must wear regular clothing. Now, what clothes should you wear? Technically, it doesn't matter. Except, it sort of does. Sure, you could wear a hoodie and call it a day. But what if you ever need to present your passport photo to a new employer as part of your new hire paperwork? Or you need your passport to obtain a business visa? In these instances, you want to put your best foot (or face, so to speak) forward. Our advice? Go for business casual, and you'll be fine.
One other quick tip: Don't wear white. You'll be up against a white background, and if you wear a white top, you'll look like a floating head. Nobody wants that.
Can I wear makeup in my passport photo?
The answer to this is a resounding yes. What you cannot do is alter your photo in any way. In other words, no filters or careful edits to cover blemishes or get rid of the dreaded red-eye. The alternative is to highlight your best features and cover up anything you don't want to show in your passport photo with makeup.
Be as generous with the contouring and concealer as you'd like. Within reason, of course — because, again, the point here is to be able to accurately identify you. Keep in mind, this is a personal choice. If you don't wear makeup, don't feel like you need to for your passport photo.
Can I wear jewelry in my passport photo?
The answer to this is also yes. You can wear jewelry like necklaces and earrings as long as they don't hide your facial features. Permanent facial tattoos are allowed as well, so no worries there.
Can I smile in my passport photo?
In full disclosure, you will find plenty of conflicting information on the internet about whether you can smile in your passport photo. According to the U.S. State Department's website, your facial expression should be either neutral or a natural smile. And you should be fully facing the camera with both eyes open. Basically, your passport should show a clear view of your face.
Can I take a selfie?
Nope. You definitely cannot take a selfie. If you don't have someone to help you take a photo, you can use a tripod setup. You can also have your photo taken at your local passport office. Other options include businesses like CVS, Walgreens, Costco, and Walmart or local UPS and Fed-Ex stores.
What are the passport photo requirements?
One of the most frustrating parts of getting a passport is having to retake your passport picture. So, to ensure you do it right the first time, follow these guidelines when taking your photo.
The picture must be in color.
It should be a two-by-two-inch photo.
The picture has to be printed on thin, photo-quality paper.
The picture must be taken within the past six months.
The background of the photo should be plain or off-white.
How do you take a baby's passport photo?
Passports are key to travel, and yes, even babies need them. Many of the rules listed above still apply when taking a baby's passport photo, but here a few to keep in mind.
When taking a baby's photo, make sure they're looking into the camera.
There shouldn't be any pacifiers in the child's mouth during the photos.
The baby must have a neutral face. This means they can't be laughing or crying or the photo because it might not be accepted.
When sending in your baby's documentation for their passport, you're going to need to submit the following:
A completed DS-11 form for the baby
Payment for passport fees
Two copies of baby's passport photo
Proof of your child's citizenship like a birth certificate
Documentation that proves you're the baby's parent like an adoption decree or birth certificate
Where is the best place to take passport photos?
Avoid taking passport photos wrong by going to locations that will take your picture for you. Pharmacies and drug stores are always a good option and usually provide the prints right away. Stores like Walgreens or CVS are safe bets, but you can also try shipping services like UPS, USPS, or FedEx. Costco and Sams are also known to take passport photos.
This article was originally published on