Patton Oswalt's Daughter Is Making Everyone Want To Move To 'Fart Land'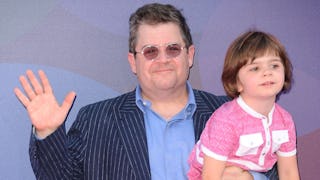 Image via Jason LaVeris/FilmMagic/Getty Images
Alice Oswalt deserves a Pulitzer for "Fart land"
Patton Oswalt is a brilliant comedian and it looks like his eight-year-old daughter Alice is following in her father's footsteps if a recent story she wrote is any indiction.
It's about farts, of course. Because no matter her genetics, an eight-year-old is an eight-year-old.
Oswalt shared his daughter's creative genius on Twitter where her talent was immediately noticed. The story is called "Fart land," and it's pretty much a literary revelation.
He tweeted it with the caption, "My daughter wrote this today. Gonna submit it to the @NewYorker's SHOUTS AND MURMURS section."
And we expect The New Yorker will be blown away by Alice's simple but intense tale.
Fart land is a fictional place where people fart. That's literally it. And honestly, what more do we want? She writes, "Fart land is a land where people who fart a lot get sent to. You are one of those people. So you will be sent there. Your friends can visit. Not to worry. You will have a great time. At first it seems sad. 🙁 but every single person like it not one but Mia. you don't need to worry about her. You home is 3249 sticky drive. Have fun!"
Oh, we plan to. Except not with Mia, but who's worried about her anyway? To Fart land we go!
Twitter was all about Alice's flatulent fairy tale.
https://twitter.com/jetpack/status/953516756223459329https://twitter.com/jetpack/status/953518009510912002
Can we come too?
All kidding aside, this is fantastic stuff for parents to save. One day, Alice may very well be an author and her father can say he published her first — and that it was about farts. This also gives me hope that my son, who uses his brand-new Chromebook almost exclusively to Google anything and everything about farts, is no different than the kids of insanely witty and successful comedians. Farts are comic gold when you're eight.
And 38. Sorry, not sorry.
This article was originally published on