Patton Oswalt: 'I'll Never Be At 100 Percent Again'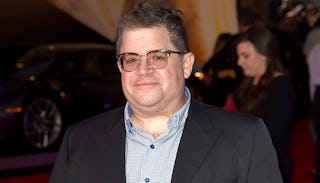 Image via Kevin Winter/Getty Images
Patton Oswalt opens up about grieving the loss of his wife in heartbreaking interview
Comedian Patton Oswalt lost his wife this past April and has since written about his grieving process. This week, he told The New York Times how her death has shaped him. He also describes the nightmare moment he discovered his wife wasn't breathing.
Be warned; this is not an easy read.
Michelle McNamara died on April 21st of this year and the cause of her death is still unknown. She was in the middle of an all-consuming project, tracking a serial killer for her future book in which she hoped to expose him. McNamara was a true crime writer and incredibly dedicated to her work. Her determination to find out who The Golden State Killer was caused her to feel anxious and have trouble sleeping. That was when Oswalt, out of concern for her health, suggested she take a Xanax, to "sleep until you wake up," a phrase the pair used to describe a solid night's rest.
The next morning, Oswalt got the couple's 7-year-old daughter Alice dressed and ready for school. On the way back from school drop-off, he bought McNamara a coffee and discovered her still asleep at 9:40 once he returned home. After completing some work in his home office and finding out the sad news that Prince had passed away, Oswalt sent out a series of tweets and checked on McNamara again.
This time, she wasn't breathing.
The death came as such a shock that Oswalt says he refused to believe it at first. "I was literally blinking trying to get out of this," he recounts. He explains that paramedics were the first to suggest overdose as the culprit, and that's still what he believes to be her cause of death as he continues to await official word from the coroner's office.
He now calls that day the "second worst" of his life. The first being the next day, when he had to tell Alice her mother had died. The day after that, Alice mentioned the movie "Inside Out" saying, "I guess Sadness is doing her job right now."
And cue uncontrollable sobbing from every mother everywhere.
What Oswalt is living through is any parent and spouse's worst nightmare, realized. And he doesn't sugarcoat the process.
He talks of ongoing depression he's attempting to work through by going back to his work of stand-up comedy and confesses to a brief foray into dulling the pain with alcohol, which, "really doesn't help." He's tried counseling and reading books about grief, but it's his comedy that's proving most therapeutic.
Oswalt debuted a new hour of stand-up at last month and says it was clunky, and though his performances weren't his best, they gave him comfort. "It was like: OK, the world didn't end." He "projected" on the audience wondering if they were judging him as he assumed they were thinking, "Your wife is dead and you're telling jokes? What's wrong with you?" He also acknowledges that getting back onstage was, "a rebuke to grief, an acceptance of the messiness of life. I'll never be at 100 percent again, but that won't stop me from living this."
At the end of the interview, Oswalt breaks our hearts anew telling The Times about his bedtime ritual with Alice since McNamara's passing. He says they write down three things each night that they remember about her. He chokes up explaining, "It keeps this living portrait of her."
These days, Alice is helping her father recover better than anyone with Oswalt's brother Matt saying the first time he Oswalt saw his little girl after McNamara died, "the color just came back to his face." Between drawing comfort from Alice and working to finish his wife's final book Oswalt is doing all he can to get through the pain. He says, "I was married to a great crime fighter."
And it's the memories of her greatness that will get Oswalt and his daughter through the rest of a life spent without her.
[free_ebook]