Kobe Bryant's Teammate Names New Baby After Gianna Bryant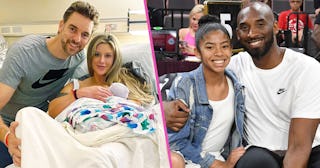 Pau Gasol/Instagram and Ethan Miller/Getty
Former L.A. Lakers player Pau Gasol honored Kobe Bryant and his family in the most beautiful way
It's hard to believe it's been almost eight months since Kobe Bryant died. The legendary basketball player was killed when the helicopter he was in crashed in California in late January. Tragically, his 13-year-old daughter, Gianna, was also on board and was also killed. Now, one of Kobe's former teammate's, Pau Gasol, is honoring his friends in the sweetest way: He just named his newborn daughter after Gianna.
Gasol and his wife, Catherine McDonell, announced the birth of their daughter, Elisabet Gianna Gasol, on Instagram.
https://www.instagram.com/p/CFFxFK9gxSR/
In both Spanish and English, Gasol shared the caption: "Our little one has finally arrived!! The delivery went really well and we couldn't be happier!! Elisabet Gianna Gasol, a very meaningful name for our super beautiful daughter!!"
The name certainly is meaningful. It's a beautiful tribute to Kobe Bryant and his family.
Gasol played seven seasons alongside Kobe on the Los Angeles Lakers. The two played together on two championship teams, and their families developed a close friendship that's remained throughout the years. Old photos of Gasol visiting the Bryant home and playing with Kobe's daughters will absolutely melt your heart.
Gasol has been remembering Kobe and their special friendship on his social accounts in the months since his passing.
https://www.instagram.com/p/CEPV_0Ngcuy/
https://www.instagram.com/p/B9FOermg5kf/
At the news of Bryant's death, Gasol promised to keep his friend's legacy alive. "I still refuse to believe it… it still feels like a nightmare that I can't wait to wake up from… but if this nightmare continues, I will do what I can to keep your legacy going and your lessons present in everything I do."
The sweet name isn't the only way that Gasol and his wife paid tribute to their friends. Vanessa Bryant also announced the birth of little Elisabet Gianna on her own Instagram (which is private, so only her followers can see it), revealing that she's going to be the little girl's godmother.
"My goddaughter is here!!!!" Vanessa wrote. "Congratulations. Love you 3 so much! So touched by your request to honor my Gigi. Can't wait to hold Elisabet Gianna Gasol."
We can't think of a more beautiful way to honor Kobe and Gianna, and we hope it isn't long before Vanessa Bryant is able to see her friends and spend time with her sweet goddaughter.