Artist Biked 4,000 Miles To Be With His True Love And 40 Years Later, They're Still Together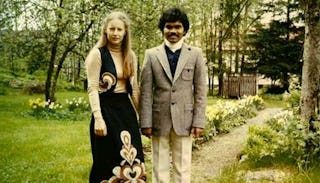 A portrait artist fell in love with a Swedish royal, bicycled 4,000 miles to be with her, and they're still together 40 years later.
It's Valentine's Day, and that means even the most jaded and cynical among us are suckers for a good tale of sweetness and sentimentality. That's good news, because no fairy tale can hope to compete with the real-life story of a penniless street artist who fell in love with a princess, bicycled across the world to be with her, and they're still in love 40 years later.
According to the aptly named Good News Network, PK Mahanandia lived in Delhi in the seventies, and he was a handsome art student who painted people's portraits in the city's main square. In spite of his talent, he was very poor. Then one day a young and beautiful Swedish royal named Charlotte Von Schedvin was in Delhi and asked for a picture. He drew it, but says it was not very good because his hands were shaking, and she agreed to come back the next day to try again. While he drew her, they fell in love, just like Rose and Jack in Titanic. (Except she kept all her clothes on.)
The couple describe their love as instant and overwhelming. Even though according to CNN they were only together for a month, they knew they would last forever.
This is not the way sensible modern romances start! If a friend told you she was going to marry a street artist she met on vacation and had only known for a month, you would tell her she was crazy. And you'd be right. But for these two, it really worked, and they have a much more romantic story to tell their kids than, "We both swiped right."
Desperately in love, she asked him to come back to Sweden with her, but his pride got the better of him and he said that he'd come to join her when he could raise the money for the trip himself. That took a long, long time. Finally, two years later, he just decided to make the trip on a bicycle. Sure, it sounds crazy, but if you've already decided to marry someone you only knew for a month, riding a bicycle from India to Sweden to be with her seems downright logical by comparison.
He biked 40 or more miles a day across Afghanistan, Iraq, Turkey, and parts of Eastern Europe, with the occasional train ride and hitchhiking stop before he finally got to Sweden. The 4,000-mile trip took him four months and three weeks to complete, but in the end it was worth it.
The couple has been married for 40 years now. He is an artist, and she is a music teacher, and they have two adult children and are just as in love now as when he decided to take a 4,000-mile bike ride to be with her. We should all be so fortunate!
The princess and the painter have a more romantic real-life story than any fairy tale. Why is this not a movie? Hollywood can have my $8.50 right now, and I'll even shell out for popcorn and Kleenex, because their story would make the best Valentine's Day movie ever.
This article was originally published on