School District Allows Active Shooter Drill Gunman To Wear Arabic Headdress
by Valerie Williams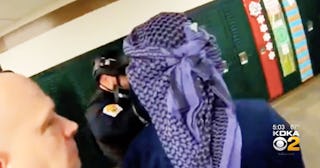 Penn Trafford School District
Pennsylvania school district produces active shooter drill video in which the gunman wore a headdress
Video of a very disturbing active shooter drill in a Pennsylvania school has been circulating online, because its content is truly unreal. The school's "gunman" during the drill was wearing what appears to be a kaffiyeh, which is a traditional Middle Eastern headdress. Now, people are calling the school out and wondering what on earth made them think this was in any way acceptable.
The Penn-Trafford School District is rightfully taking plenty of heat for allowing the "shooter" in a recent drill to wear the headdress. "To stereotype the shooter is appalling given the data on active shooters and the recent shootings at the Tree of Life and Christ Church," Elaine Linn, board secretary of the Islamic Center of Pittsburgh, told the Pittsburgh Post-Gazette. "The action of Penn-Trafford puts our community of over 10,000 Muslims in the greater Pittsburgh area in great harm."
Pretty blatant, right? That person definitely seems to have on a Middle Eastern headdress. Of course, Penn-Trafford district officials claim it wasn't deliberate.
"These volunteers were provided costumes and accessories by the consultant group to alter their appearance so that they were not readily recognizable by their co-workers," a statement from the district read. "There was no intent to represent any particular culture or religion."
The video of the drill was produced by district students and the shooter was dressed in a long blonde wig, dark zip-up sweatshirt and paintball mask over his face, all of which was part of the original plan. Organizers of the video production say the headscarf was not.
Security training company Command Excellence staged the drill and says the scarf was part of a collection of props to disguise the actor playing the shooter. John Sakoian, president and founder of Command Excellence, says the scarf was just a neck scarf, like one "somebody would wear on a motorcycle."
"He completely, innocently converted it to that," Sakoian says. "It's not just a Muslim headdress. It was a neck scarf."
However, Sakoian also admits he didn't authorize the shooter to wear the scarf – -nor did he see the video, which he appears in, until it was published. "They're good people," Sakoian says of the drill's 350 participants. "Nobody tried to do anything to offend anybody. The drills are not meant to identify any race or religion or group or creed of people."
Sixty-two of the 110 mass shootings in the United States between 1982 and February 2019 were carried out by a white gunman. The deadliest was 2017's Las Vegas shooting at the Route 91 music festival that ended in the deaths of 58 people, also carried out by a white gunman. The Parkland shooter was white. The Sandy Hook shooter was white. As these statistics prove, the majority of mass shooters are white. So why perpetuate the harmful and bigoted myth
"This is something in a school, we are conditioning children to have these negative views against Muslims," says Wasi Mohamed of the Islamic Center of Pittsburgh."It drives a rhetoric. We are already seeing the media is mentioning Muslims in a negative light, now we have to see it is a school-shooting training video. People think it is normal, but it is consistently a problem."