Over 30 Percent Of 18 To 34-Year-Olds Still Live With Their Parents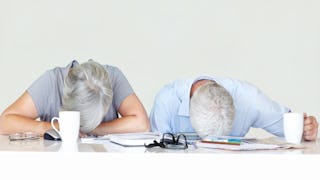 Image via Getty Images/Globalstock
Living with a parent is the most common living arrangement for the first time in modern history
Hold me. A recent study reports that people between the ages of 18-35 years of age living with their parents is the highest it's been in 130 years in the U.S., causing all parents of all kids to curl up in the fetal position and sob uncontrollably. I'm kidding (no, no I'm not).
According to a Pew Research Center report, "for the first time in more than 130 years, adults ages 18 to 34 were slightly more likely to be living in their parents' home than they were to be living with a spouse or partner in their own household." That's 24 million people by the way.
So, why (WHY) is this happening exactly? It seems the primary reason is that individuals are choosing to settle down and get married later in life, or not marry at all.
"Dating back to 1880, the most common living arrangement among young adults has been living with a romantic partner, whether a spouse or a significant other," Richard Fry of Pew Research Center wrote. "This type of arrangement peaked around 1960, when 62% of the nation's 18- to 34-year-olds were living with a spouse or partner in their own household, and only one-in-five were living with their parents."
Another factor is that men (35 percent of whom are now living with mom and dad) aren't earning the same living as they were decades earlier. "The share of young men with jobs peaked around 1960 at 84%. In 2014, only 71% of 18- to 34-year-old men were employed. Similarly with earnings, young men's wages (after adjusting for inflation) have been on a downward trajectory since 1970." As a result, they're in no hurry to leave the nest.
Another Pew study dug deeper finding much of that increase was driven by those ages 25-34 who didn't graduate from college.
Listen, we all love our kids. But at a certain point, our job of getting them prepared to be upstanding, contributing members of society has to end. It has to, right? Right? The only thing getting us through these parenting years is knowing our kids will launch into the world someday so we can sleep for the next 30 years until we die.
According to the Census Bureau, most Americans feel that education and professional achievement outweigh the need to marry or have kids, which is totally cool. Seriously. But why do people have to be married in order to leave their parent's homes? Asking for a friend.