Perez Hilton Regrets How He Treated Britney Spears, Fans Call BS
by Erica Gerald Mason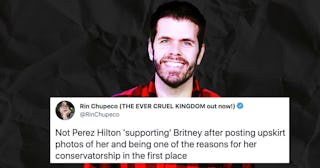 Leon Bennett/WireImage/Getty amd RinChupeco/Twitter
Scrutiny of Britney Spears' treatment by the press grows as the pop star struggles to end her conservatorship
Listen, we've all been dicks. Some more than others. But Mario Lavandeira, a.k.a. Perez Hilton, built his career going after, bullying, and slut-shaming celebs, notably Britney Spears. As the public reconciles their perception versus the troubling reality of the embattled pop star, some in the entertainment industry have been reflecting on their treatment of and relationship with Spears. Perez Hilton, in particular, took stock of his blog coverage of the star and has apologized for how he's talked about Spears over the years, and fans don't want to hear it.
The blogger recently told Sky News that he "carries deep shame and regret" for how he treated Spears on his website.
"I can't say I was just young and dumb. I think we know a lot more. And initially, many folks, myself included, were shocked and alarmed and especially concerned for her young children," he said.
"I know I did not express myself as well as I could have," Hilton added. "I didn't lead with empathy and compassion, which thankfully seems like most people now are understanding the severity of Britney's situation. I absolutely apologize and carry deep shame and regret."
However, Spears fans call BS. According to the Los Angeles Times, in 2007 Hilton called Spears an "unfit mother" on his site. The newspaper reports that Hilton even made T-shirts that read "Why wasn't it Britney?" after actor Heath Ledger died in 2008.
Hilton's mea culpa comes as the singer testified that she wants to end her conservatorship that has been in place for the last 13 years. During her testimony, Spears recounted horrific details of her experiences, alleging she was placed on lithium against her will, as well as being forced to have an IUD implanted to prevent her from having more children.
On the heels of Hilton's apology, Spears' fans won't let Hilton forget his gross behavior.
"One of the main reasons why Perez Hilton was as relevant as he was in the mid-aughts was because he profited off of many female starlets' trauma, addiction, and mental health struggles," one person posted on Twitter. "He wasn't some great interviewer. He wasn't offering astute culture criticism. He was a bully."
Comic Kathy Griffin reminded Hilton of how he used to draw penises on pictures of women. "Yup. With me, it was drawing a penis in my mouth, etc. He's deeply misogynistic. He was never even clever or snarky," Griffin tweeted. "Just a sad, talentless manboy who glories in taking women down. And yet, always wanted to be photographed with me and the other females he harassed."
To address the backlash, Hilton uploaded the following video to his YouTube channel.
"Today I have been getting so much hate and bullying from people who were and are upset about how I used to talk about Britney Spears," he said. "And my message to all those people is: f— you! It just does not compute that you're going to bully someone for bullying somebody in the past. How does that make you any better than what I did? I fully own how reprehensible I used to be in the day."
Another Twitter user put it more bluntly. "Perez Hilton saying #freebritney when his coverage had specific implications that allowed her to be in this position…..special place in hell."
The Los Angeles Times reports a Spears fan called Hilton out for his apology video, writing, "If you're really sorry, put your money where your mouth is. Donate all of the *considerable* wealth you got through misogynistic bullying."
Hilton answered: "I've spoken to my therapist about that concept. We both agree – no."
As time marches on, it turns out that the only one who had it right was the "leave Britney alone" fan. Something Hilton should have done in the first place.