Green Card-Holding Mom Of Four Gets 8 Years In Prison For Voting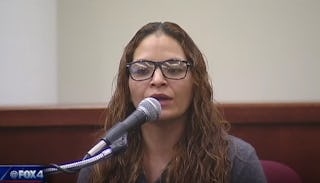 Image via Fox 4 / Youtube
Rosa Maria Ortega voted for the attorney general who ended up prosecuting her for voter fraud
Rosa Maria Ortega is a mom of four kids who lives in Texas. She's a permanent resident of the United States and holds a green card. She's volunteered as a poll worker. As someone who lives, works, and volunteers in the U.S. with no plans to leave, she thought is was her civic duty to vote.
Then she was prosecuted for voter fraud — and sentenced to eight years in prison.
Ortega mistakenly thought being a permanent resident allowed her to vote. In reality, since she's not a citizen of the United States, she wasn't allowed. She voted five times between 2004 and 2014, using her own identity and her own ID. And now a Texas appeals court has upheld her conviction, for which she was sentenced to eight years behind bars. She will likely be deported after serving her sentence, NBC reports.
"She doesn't know. She's got this [green] card that says 'resident' on it, so she doesn't mark that she's not a citizen," her attorney told reporters. "She had no ulterior motive beyond what she thought, mistakenly, was her civic duty."
Prosecutors argued that Ortega likely didn't make an innocent mistake, since she correctly identified herself as a resident alien on a driver's license form. But others, who have seen Texas voter registration forms, say the distinction is not clear, and it's likely Ortega was none the wiser.
Regardless, a sentence of eight years in prison for a mom who made a mistake is outrageous. Republicans have spread a lot of rhetoric about voter fraud running rampant, but the reality is that cases like Ortega's, in which non-citizens attempted to cast votes, are extremely rare. As a result, when they have been discovered in the last few years, they've ended in harsh sentences.
Obviously, it's important to ensure our voting process is above board, and only those that are eligible to vote actually do so. And ignorance of the law is not a valid defense. But nearly a decade of imprisonment and likely deportation is the very definition of cruel and unusual punishment, something we like to think we protect people from. This is not justice for Ortega's crimes.