Pete Davidson Says His 'Career Would Be Over' If He Acted Like Ariana Grande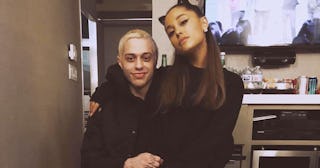 Ariana Grande/Instagram
More than a year after their breakup, Pete Davidson is throwing Ariana Grande under the bus
In his new Netflix standup special, Pete Davidson doesn't hold back on how he feels about his ex-fiancé, Ariana Grande. Sure, she's talked about him in the pages of Vogue and mentioned him (honorably, if we're being honest) in her hit "Thank U, Next" last year. But Davidson's feelings are a little less, uh, considerate.
In the special, Alive From New York, he makes it clear he thinks there's been a double standard in terms of how each partner was received by the media post-breakup. When Grande gave Vogue an interview last summer, she admits she knew the entire romance was a whirlwind.
"I met Pete, and it was an amazing distraction," Grande told the magazine at the time. "It was frivolous and fun and insane and highly unrealistic, and I loved him, and I didn't know him."
Which, honestly, isn't that bad? But Davidson feels differently.
"Can you imagine if I did that?" Davidson said in his special, via Vulture. "My career would be over tomorrow. If I spray-painted myself brown and hopped on the cover of Vogue magazine and just started shitting on my ex."
He seems to be most hurt by her description of their relationship as a "distraction." His reaction makes it clear that these two are on two totally different pages in what they believe the word "distraction" means as a label.
"Can you imagine if I did that shit? If I was just like, 'Yeah, I was just fucking her 'cause I was bored, and then Fortnite came out.' It would be insane," he exclaimed.
But the thing is — her words didn't read as though she reduced their relationship to just "fucking." She's saying they got together so quickly and got serious too soon because being in that relationship was a distraction from other things going on in their lives that were probably stressful or traumatic and needed processing that neither one of them was ready to do. Arguably, nothing about her Vogue interview sounded like she was "shitting" on him.
Though Davidson does make one fair point: the discussion she initiated surrounding his "BDE." He talks about how uncomfortable it was for him after her "Thank U, Next" video gave a nod to his nether regions.
"I don't like that she talked all this shit on, like, behalf of my dick," he said. I thought that was super weird," Pete said. "Can you imagine if I said that shit? Can you imagine if I was like, 'Sorry, it didn't work out. Nice pussy, though!'?"
Fair enough.
He didn't stop there, he also called Grande's fans "angry" 9-year-olds with ponytails and lamented that Starbucks is forever ruined for him now because of the cup size "grande." He then complained that Grande was named Billboard's "Woman of the Year" and made successful music about their relationship.
Though Davidson did empathetically open up about their breakup in a recent interview, saying he knew the death of Mac Miller was "it" for the couple.
"I totally got it. 'Cause we were only together for a few months — she'd even tell you this. I was like, 'Listen, I get it, do whatever you gotta do, I'll be here.' I think I said, 'I'll be here until you don't want me to be here,'" he said. "I pretty much knew it was over after that," he continued. "That was really horrible. I can't imagine what that shit is like. That shit is just terrible. All I do know is that she really loved the s— out of him and she wasn't putting on a show or anything. That was fucked up."