PetSmart Under Fire After Multiple Dog Deaths During Grooming Visits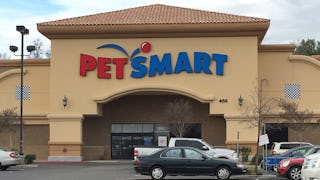 Image via Lynne Gilbert/Getty Images
PetSmart is in trouble following multiple dog deaths
There's something disturbing happening at PetSmart. At least four dogs have died after being groomed by the retail company — and their owners want answers STAT. There's currently a pending lawsuit in the works and a proposed bill that will help pet owners properly fight back against animal abuse.
When Chuck Crawford got a call from PetSmart last March, he assumed it was just a simple check in to let him know that his two corgis were done being groomed. Instead, Crawford told NJ.com, an employee explained that his dog Abby had died.
"It was a 20-second phone call. It was so crude and beyond comprehension," Crawford said. "To take your pet for a grooming, and then have them die? That is the absolute worst thing."
According to Crawford, his corgi had been given a completely fine bill of health during a recent trip to the veterinarian. He's now left searching for answers on Abby's cause of death. He's not the only one.
Danielle DiNapoli took her English bulldog Scruffles for a grooming appointment at the end of December. She informed a PetSmart employee that Scruffles was scared of hairdryers. A little less than an hour later, she received a call informing her that her dog had died.
"I just hope she didn't suffer," DiNapoli told The Today Show. "But I think she did because for her to die that quickly she must have been so scared."
DiNapoli is now working on a lawsuit against PetSmart, alleging that the employee used a hairdryer on her dog, which could have impaired the animal's breathing.
Meanwhile, PetSmart is maintaining that the dog's cause of death was completely unrelated to their grooming, and that an autopsy could show that Scruffles had a pre-existing condition.
"We love pets and their well-being while in our care is a responsibility we take very seriously," the company said in a statement.
This isn't the first time that PetSmart has made it into the news over grooming accusations. Footage of a Houston PetSmart employee very roughly cleaning a Shih Tzu led to mass outrage, and the firing of the groomer. Fair warning: the video is pretty horrendous.
While it's still very much up in the air what's going to happen with these PetSmart allegations, there are lawmakers in New Jersey who want to bulk up the rights of pet owners. They're proposing "Scruffles Law," which would allow owners to collect economic damages from a company that abused their pet. These owners could sue for up to $10,000 plus emotional distress damages, according to the AP.
Hopefully, that'll provide some much needed solace for the dog owners still reeling over these sudden deaths.
"I have extreme anger and extreme grief. I don't know what happened with Abby, there were no health issues whatsoever," Crawford told NJ.com. "I went through absolute hell that day. She's my little sweetheart."