Pfizer Vaccine 93% Effective At Preventing Hospitalization In Kids Ages 12-18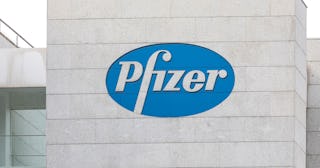 David Benito/Getty
More good news about the effectiveness of Pfizer's COVID-19 vaccine in adolescents ages 12-18 — this time, about hospitalization rates
The Centers for Disease Control and Prevention just rolled out new stats pointing to Pfizer's COVID-19 vaccine being safe and effective at preventing hospitalization in kids ages 12-18. The CDC's latest study shows that Pfizer's shot is 91 percent effective at preventing hospitalization in kids ages 12-15 and 94 percent for ages 16-18.
The CDC's study focused on 464 adolescent patients — 179 of them were hospitalized with COVID and 285 were hospitalized for other reasons. The research was done across 19 pediatric hospitals in 16 states between June and September 2021, the months where the Delta variant was especially prevalent.
Seventy-two percent of the patients involved in the study had at least one underlying condition and 68 percent attended in-person school. Most of the patients reside in southern states, as that's where the Delta spread was high during the study's timeframe.
Patients in the study were considered fully vaccinated against COVID-19 if they were at least 14 days out from their second dose of the Pfizer shot before onset of illness. Any patients only partially vaccinated — either only having received one shot or less than 14 days since their second shot — were not part of the study's results.
Ninety-seven percent of the study's hospitalized COVID patients were unvaccinated. All of the critically ill patients were unvaccinated. That includes the 43 percent (77 patients total) who were admitted to an ICU and the 29 percent who were on life support at some point. It also includes two patients who unfortunately died.
The 93 percent number is the real-world analysis for how effective Pfizer's vaccine is against hospitalization in this age group. In clinical trials, the vaccine was found to be 100 percent effective.
According to CDC data, 46 percent of kids ages 12 to 15 and 54 percent of those age 16-17 are fully vaccinated. That's a smaller number than any adult age group. Since August 2020, 65,000 kids have been hospitalized with COVID and almost 700 have died. Considering the good news about the vaccine's effectiveness at preventing hospitalization, it's hard to understand why more parents aren't lining up to get their kids vaccinated. Maybe this data will help push some from hesitant to ready.