Phoebe Dynevor Explains How 'Bridgerton' Will Continue Without Regé-Jean Page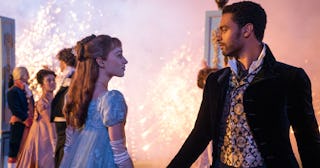 LIAM DANIEL/NETFLIX
Here's how season 2 of Bridgerton will work with Regé-Jean Page, according to Phoebe Dynevor
For the many, many people who binged and loved Netflix's hit series, Bridgerton, there are a lot of questions surrounding the show's upcoming second season. Many viewers were especially captivated by the onscreen chemistry of Daphne Bridgerton (played by Phoebe Dynevor) and the Duke of Hastings (played by breakout star Regé-Jean Page). But since Page has announced his exit from the show, how will Daphne's story continue to play out in season 2 and beyond?
In a new interview with The Wrap, Dynevor addressed those questions, saying the show's second season is "definitely different" without the Duke of Hastings at the center of the story.
https://www.instagram.com/p/CGXiQrqACfC/
"I think the fans who have read the books and know the books are aware that every season will focus on a different sibling's journey," she said. "And it might be a little bit more of a — not shock, but like a surprise for the fans that love Daphne and Simon's story so much."
It's already been widely reported that the show's second season will focus on the love story of Daphne's older brother, Anthony Bridgerton.
"I think that's honestly the joy of the show in the long-term, getting to see these different love stories play out," Dynevor said. "No two seasons will be the same and they'll have a different excitement. I think every season is just going to be really different and magical in its own way. And that's honestly what I think is so brilliant about what Shonda [Rhimes] and Chris [Van Dusen] have created. There's not many TV series that do that, that focus on different characters every season. But I think every season is going to have its own magic, which is great."
Dynevor said that Daphne's relationship will still be a part of the show, because the Duke will be regularly referenced.
"I think he'll definitely be referred to a lot. I think we'll see the baby," she said. "And we'll just focus more on [Daphne's] relationship with the Bridgerton Family."
While the show certainly won't feel the same without Page, fans will still be able to see plenty of him. The star is staying booked and busy, with upcoming roles in a movie adaptation of Dungeons and Dragons, as well as the Netflix original movie The Gray Man, where he'll star alongside Chris Evans and Ryan Gosling.