Photo Of Nurse Helping New Mom Is A Sweet Tribute To Labor Nurses Everywhere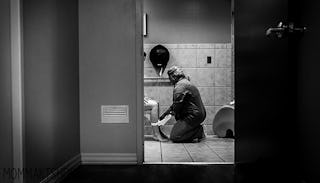 Image via Katie Lacer
Photo of nurse caring for mom after labor goes viral
That time spent in hospital after you give birth is really kind of a blur. Maybe we intentionally forget some of the harder parts of those postpartum moments. It's such a vulnerable time when we rely on nurses for things most of us have never relied on another human for.
How many of you have been helped to the bathroom by a nurse who patiently waited with you in a moment when you were scared and in pain? How many of you were shown just how to use the mesh underwear and giant pads by a nurse with a calming sense of humor? How many of you witnessed nurses cleaning up after you in the bathroom — at moments when your modesty had to be thrown completely out the window? One writer reminded us this week just how amazing nurses are, by sharing a viral photo that captures that intimate time — between women and the women that care for them after labor — so well.
"I'll never forget the faces of the nurses who followed me into the bathroom after delivering each baby. That moment when I was so vulnerable, so tired, scared, shaky," writes Jill Krause of the blog, Baby Rabies. "My swollen belly deflating, and my modesty long gone. They treated me with such kindness and dignity. For me, these have been moments of empowerment and confirmation that I have a real village to help me, even if just for that little bit of time in a bathroom, on a toilet, while a kind nurse shows me how to put an ice pad on my mesh undies."
This image depicts Dawn Moravec, RN at Clark Memorial Hospital, providing that intimate care for her patient postpartum. It took my breath away because it so clearly brought back that time. Did I thank those women? I don't even remember. I was so tired — so out of sorts. Photographer Katie Lacer has spent a lot of time documenting the birth experience for women. She's a mom of three herself, so when she saw the interaction, it struck a chord.
"I just happened to be in the right place at the right time. I looked over, I see her sitting there, the nurse in front of her and I hit the shutter," Lacer tells Scary Mommy. "Once I got home, I realized that it could be any Mom, with any nurse, in any hospital – the anonymity of it really resonated with me. It's another part of her birth story, something that doesn't get told very often."
It certainly is. That time that sometimes spent alone in hospital after you've given birth is such a milestone. You're transitioning from childless to mom, or from mom of one to mom of two, three, or more. Your life is changing by the minute. And there is someone quietly there beside you, helping you adjust.
"This photo by my friend MommaKT Shoots just takes me right back," Krause writes in her post. "Let's hear it for the nurses and the doulas and anyone else who shows us how to make ice pad underwear (or helps with that first shower post c-section!)"
Indeed.
This article was originally published on