A Unique Photo Series Shows The Everyday Ups And Downs Of Real-Life Parenting
by Caila Smith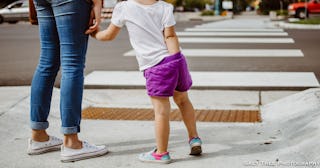 Photo Credit: Winni Carter of Colorado Springs, CO, USA
As a mom, I often times spend all day running around the house tending to everyone else's needs like a headless chicken. But at the end of the day, it always feels like I have little to nothing to show for my efforts. There's always more dishes to wash, more laundry to fold, and more than enough sass-mouthing to go around when my kids declare, "But, Mommmyyyy, I'm not tired!," at bedtime. Well, Mommy is freaking exhausted … so get your rear in gear and get upstairs.
Then, when all is still and the chaos has calmed, I wonder, am I doing enough? I'm barely making it through my days, so am I really doing the "good mom" label any sort of justice? Furthermore, can I even claim that label?
If you have thoughts similar to mine, prepare to laugh, cry and feel so incredibly seen by the photos Ashleigh Raddatz, CEO of Documentary Family Photographers (DFP), and her team of 185+ documentary photographers are bringing to the table.
"Currently on social media we see a lot of people hold back on sharing the nitty gritty of what life truly looks and feels like," Raddatz tells Scary Mommy. "Documentary photographers are exactly about giving visual evidence of life as it is."
Tiny fingers that are knuckles-deep digging for gold in a tiny nose, mismatched shoes, and sticky jam hands are the very moments that make up parenthood. Sure, the photos of everyone looking at the camera and perfectly smiling are a treasure too, but what about the events leading up to that moment?
The nursing that takes place before the photos, your little one saying, "No, I can do it," as he ties his shoes for the very first time, braiding your little ones' hair, and even the tantrums that happen in between the rest of all that noise… though these moments may bring me to my knees in exhaustion, they are the ones I cherish, and these are the moments I will myself to remember.
Raddatz tells Scary Mommy she loves all of the photos shared by the members of her DFP work family, but she resonates most with Kelly Hayme's realistic take on moms braving a public restroom with their toddler.
"The toilet looking like it could use a good scrubbing, and mom crouched down. I so can relate to being in this situation with my kids so many times," Raddatz tells Scary Mommy. "And [I] can only imagine the mom telling her 'Don't touch anything!' when they went in, and here she is, feet dangling and hands gripping the toilet seat."
We've all been there. Kids are messy without a care. For example, have you ever tried to be a Pinterest-like mom and let your kids paint?
Forewarning: just don't and say that you did.
Or have you ever had one of those anything goes type of days? The kind where you see your children smuggling crayons into the middle of your living room from out of the "Use Only At The Kitchen Table" drawer?
Yup, this is all too familiar.
And as a mom to two sets of twins, I'm absolutely SWOONING over these stunning mommies tandem-nursing and multiple-nursing their babes.
Or how about these daddies practicing in what looks like their usual, morning routine?
"We hope to further the definition of 'family' to be all-encompassing and inclusive beyond the typical idea of a mom, a dad and a couple of kids, because that isn't the only thing which defines family," Raddatz says. "Family to us simply means sharing some portion of life with the ones you love, sharing laughter, sadness, tragedy, victory, loss, regret, happiness, and success. We want to transform the world's perspective by encouraging diversity and truth through family photographs."
I love the way these moms look so natural going about their day, I'm sure this was just an everyday moment for them. But seeing it like this, they look like they are ready to take on the world.
And look at this new mom of three who's juggling all that beautifully with such grace.
Raddatz and her team of DFP photographers aren't only depicting what true family life is like in the happy or everyday moments either. In fact, DFP feels it is their "duty" and "privilege" to be granted the opportunity of photographing families during their most vulnerable moments too.
Like this newborn who was born with a congenital heart-defect and the heavy toll his diagnosis is taking on his father. This is a parent's love, and sometimes it's soul-crushing.
"We are here to tell the stories of people's lives," Raddatz says. "That sometimes means documenting some really difficult things, but we are honored to be able to provide that to families, to bring them comfort through imagery, to tell their story in a way that is full of truth and dignity."
After new mom Sara had surgery to remove a pancreatic tumor, one of her biggest concerns was whether she would be able to nurse her baby. But, being the badass that she is, she did it! And her tumor was benign!
Now, she has a photo to remember this moment.
Documentary photography is showing your life as-is in Polaroid form. In some cases, that means it acts as visual confirmation that the "good mom" label has been served with justice.
So if your kids are having a tantrum at the hair salon …
Or at the park …
You are not alone, and you are still good.
And it's moments like this that prove it.
"Sometimes all we need is a bit of visual proof that we are living," Raddatz says. "But the proof is in the pictures."
This article was originally published on