These Intimate Photos Are A Silent Tribute To Labor Nurses Everywhere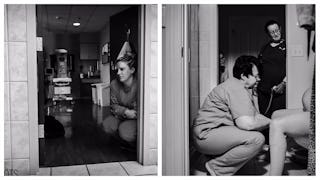 Images via Katie Lacer
Photographer's portfolio reminds moms how much amazing support they had during labor
Last week we shared an image of a nurse helping a postpartum woman use the bathroom after she'd given birth. It was a simple image, but it caused women everywhere to take a deep breath — and realize that they too had someone there for them during one of the most important milestones in their lives.
This was the beautiful image we shared, from photographer Katie Lacer, of MommaKTShoots.
The above image was shared on Facebook by Jill Krause of the blog, Baby Rabies, where it quickly went viral.
"I'll never forget the faces of the nurses who followed me into the bathroom after delivering each baby. That moment when I was so vulnerable, so tired, scared, shaky," Krause wrote. "My swollen belly deflating, and my modesty long gone. They treated me with such kindness and dignity. For me, these have been moments of empowerment and confirmation that I have a real village to help me, even if just for that little bit of time in a bathroom, on a toilet, while a kind nurse shows me how to put an ice pad on my mesh undies."
Lacer pulled together images from several birth shoots to make a portfolio that really shows just how nurses are there for women in labor through some very intimate, scary times. And it is powerful.
She provided the following captions.
"Joanie Mitchell, CNM at the University of Louisville, providing hands-on support."
"Nicole Sichting, CNM at Clark Memorial Hospital, checking in on a laboring Mama."
"Cynthia Rose, CNM at Frankfort Regional Medical Center, checking out a fresh new squish!"
"Certified Nurse Midwife providing comfort during an unexpected cesarean."
"Jacqui McMillian-Bohler, CNM at the University of Louisville, waiting for a babe!"
"Katie Isaac, CNM, supporting a Mom (also a CNM!) through a homebirth."
We received thousands of comments from people remembering just how their nurses had been there for them, too.
"First shower post c-section! That nurse is my hero. That was the best shower of my life and she encouraged me to sit and enjoy the warm water and she lathered up wash cloths and scrubbed my feet and legs and back and just waited so patiently for me to say I was done. Nurses deserve more credit than they often get. They're the backbone of hospitals everywhere."
"My first memory after being taken down to my postpartum room, a day after my c-section, is a nurse pulling up mesh undies and showing me how to deal with them. She was so kind. I was in terrible shape from pre-eclampsia and surgery, and was really out of it. I know it was her job, but she made me not feel embarrassed about such a vulnerable, intimate, and personal act."
"I cried when the nurse who was with me the first night after my daughter was born told me her shift was ending. She was amazing. I hugged her goodbye and she had tears in her eyes too. It's a beautiful thing, to have someone help you during those first days and it's a gratitude I'd never felt before."
"I don't remember her name, but I'll never forget the face of the nurse who was with me at the beginning and end of a 44 hour labor — she was on when I got to the hospital, got off and went home, and came back for her next shift just in time for me to deliver. She got me through my first (botched) epidural and took care of me post-partum. What a wonderful lady."
The entire thread of comments is really wonderful to read. And a testament to the fact that, yes, we remember our nurses and what they got us through.
Even if we were too shell-shocked to mention it.
This article was originally published on