I Used To Pick Up Boys At The Pool, Now I Pick Up Babysitters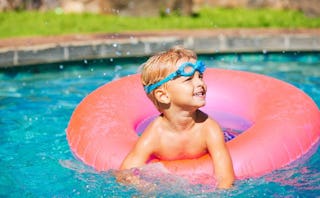 Once I let my man put a ring on it, I thought my days of scoping out the merchandise lying poolside were behind me. But as it turns out, all those skills you hone when looking for love in your teens and 20s are still useful once you become a parent. But instead of looking for your bae, you're on the prowl for a bae-bysitter.
I have bad luck with babysitters. While online dating was a smash success for me, using the Internet to find a sitter for the occasional date night has proved problematic. I met my husband less than a month after joining Match.com, but even though Care.com is essentially the same thing for babysitters, I appear to have lost my mojo.
After a couple meetups that were total duds and being stood up by not one but two girls, we finally found a sitter who was good with the kids and showed up on time. We paid her well and worked our date nights around her school schedule and waitressing gig, but now she's pregnant. While that's fantastic for her, it's sad for my already pathetic social life.
I've been looking everywhere for a replacement: coffee house message boards, the YA section of the library, nannies at the playground with bratty kids that might be looking to jump ship. Desperate for a night wearing pants with a zipper, I even tried to convince my husband to offer extra credit to his college students in exchange for babysitting, but then he lectured me on "ethics" until I admitted defeat and made him promise that we could see Pitch Perfect 2 the second it hit Redbox.
You know how in romantic comedies it's always right after the leading lady gives up on love altogether that she has her meetcute with her perfect match? Well, this weekend we took the kids to the pool.
We waded into the shallow end with our twin toddlers. As I stood up straight to stretch my lower back, I saw her, looking over at my children with a half-smile on her lips. I swear I heard angels harmonize, but it could have just been the older kids squealing from the deep end.
There she was, sitting on a chaise lounge. A potential babysitter. At least I thought so. I'm awful at determining the age of anyone under 30. My brain sorts people into five age categories: Fetuses, big kids, Instagram users, people who know what a flux-capacitor is, and grandparents. This girl didn't have a cell phone glued to her thumbs, but she was wearing braces, so I pegged her to be anywhere from 13 to 17, which was acceptable for my purposes.
As I stood there, sneaking half-glances at her through my dark sunglasses and willing my children not to choose this moment to pee in the pool, she suddenly stood up and started walking towards us.
Just be cool. I told myself. Act natural.
My pulse quickened as she perched on the edge of the pool rather than swim by us on her way to open water. In a show of confidence that I hope follows him into his teen years, one of my sons walked right up to her with a grin and proceeded to show off his splashing skills.
As it turns out, my husband makes an excellent wingman. Communicating only with our eyebrows, he brought our other son over to increase the charm factor and then nonchalantly drifted off so I could chat this chick up without him looming over us.
As she sat there and I stood awkwardly nearby, it was like I was right back at the freshman high school lunch table with someone I was interested in, only this time, I was the guy. Do I look OK? Can she tell I'm nervous? What do I do with my arms?!
We made small talk through the children and I analyzed every word she said, hunting for clues that she might want to babysit my kids. After commenting on how cute they were, she asked their names and ages. When she casually mentioned that she used to watch her cousins, I thought I had a chance.
Not wanting to seem too eager, I asked how old her cousins were, hoping her age would come up too. She didn't take the bait. I bit the bullet and asked how old she was, praying with every fiber of my being that she didn't think I was a pedophile.
By this point my children were starting to shiver, and I knew I had to make my move or forever regret it, so I gathered my courage and asked her if she ever babysat. What happened next is a blur, because once I heard the words "CPR certified" my knees went weak and everything got a little fuzzy.
In the end, I got her digits and left the pool with a swagger. Yeah, I still got it.
This article was originally published on