Pickle Mozzarella Sticks Exist, And Here's How To Make Them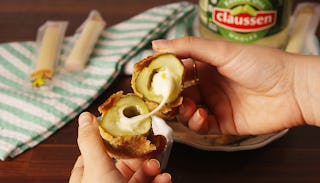 Image via FB/Delish
Pickles and cheese? Yes, please.
Have you ever eaten something and thought to yourself, "It cannot possibly get any better than this?" Well, unless you were consuming a pickle stuffed with mozzarella and coated in breadcrumbs, you would be wrong. It can get better. It can get so, so much better.
Delish has come out with the end all be all of appetizers. Or breakfast. Or dinner. Whatever, a person could eat these for all of the meals. Behold the Pickle Mozzarella stick – and here is how you can make these little mouth presents at home.
Take a standard issue dill pickle. Do not, I repeat, do not grab a jar that says "mini," "bite-sized," or "midget" gherkins unless you want to stab yourself in the eye repeatedly. Then, simply "remove the pickle ends, hollow out with a small spoon, and stuff in the string cheese."
Sweet baby Jesus, all of the prayers have been answered.
Once this process is complete, make sure to cut off all of the excess cheese on both ends so that the cheese/pickle sandwich is flush on both sides. Then, "eat the scraps," because why would one not eat the scraps.
But wait, there's more.
Once you have a smooth top and bottom Pickarella spear (trademark patent pending), simply coat the entire thing with flour, egg, and roll the deliciousness in a shitload of breadcrumbs spiced with garlic powder and paprika. Then throw them in the oven at 350 for 20 minutes (or fry them stovetop with some oil), flipping halfway through and voila, you have a pickle party in your mouth.
Delish also recommends serving up these cheesy, dill-filled wonders with some ranch dressing or marinara sauce because if anything could possibly make this situation better, it would be a bowl full of ranch dressing.
All this just in time for the holidays. You're welcome.
This article was originally published on