There's A Restaurant That Replaces Sandwich Bread With Pickles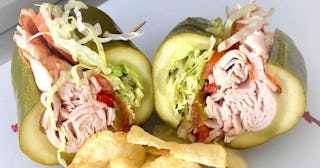 Image via Elsie's Pickles via Instagram
You're about to meet the sandwich of your dreams and it involves lots of pickles
Apologies in advance for making you literally drool on your computer. Elsie's, a sandwich shop in Haddon Township, New Jersey, has replaced bread with pickles and the results will make you want to get into a car and drive to New Jersey immediately. Prepare for a whole lot of green, sour goodness.
Okay, so how did the brilliant idea for pickled sandwiches first come about? It was pretty much an accident according to Katherine Cohen, who co-owns Elsie's with her husband Chad Jordan.
"My mom is a diabetic, and I made her a pickle sandwich instead of using bread,'' Cohen told the Courier Post. "In the original store, we weren't zoned for seating but we had a dining room set up in there. And she was out there eating one day and somebody said, 'Hey, I want one of those!'"
Now, the store is serving up oodles of pickled goodness, including the Homage Jo Katz Roll, which is stuffed with corned beef, roasted turkey breast, Swiss cheese, Russian dressing, and homemade coleslaw (I told you that big-time drooling was coming your way). There's also the Haddon Roll, featuring roasted turkey, lettuce, tomato, red onion, and sweet peppers, and build-your-own sandwich options.
Unsurprisingly, the sandwich shop is a hit.
"There were lines out the door,'' Cohen told the Courier Post. "We took our family pickle recipe and basically rebranded it. We started making sandwiches in pickles, roll-ups on cucumbers and roll-ups on pickles, and people lost their minds!''
If you need further proof, just head to shop's Facebook page. The reviews are beyond glowing. "Elsie's pickle sandwiches are the best!!! Very tasty and fresh!!!" one customer wrote. Another added: "Staff is great and food is amazing… Go and visit and you will never wanna leave. The smell is AMAZING!!!"
https://www.instagram.com/p/BvoZFCyF9cO/
So, I guess the moral of the story is that we should all head to Haddon Township, New Jersey immediately. Pickles = happiness.
This article was originally published on